Morimoto Releases Innovative Lighting Accessories for Your Ford Truck
If you are out there cruising in an F-150 or Super Duty truck with dull and dated stock headlights, you deserve a massive upgrade. As with many OEM lighting parts, your stock lighting set-up falls short of the rest of the truck. Luckily, we have Morimoto who knows how to bring top-tier lighting to the most popular truck in America. They bring OEM quality housings that will more than double your stock light output. Now they have released more innovative products for us Ford owners to feast our eyes on. The newly released Generation 2 headlights for the 2017-2019 Ford Super Duty will certainly be an eye-catcher. Not to mention the also newly released XBG Grille lineup for the 2018-2020 F-150 and 2017-2019 Super Duty trucks. While the headlights will gather some "oohs" and "ahhs", the new XBG Grilles will surely have people turning their heads to get a closer look at the front end of your truck.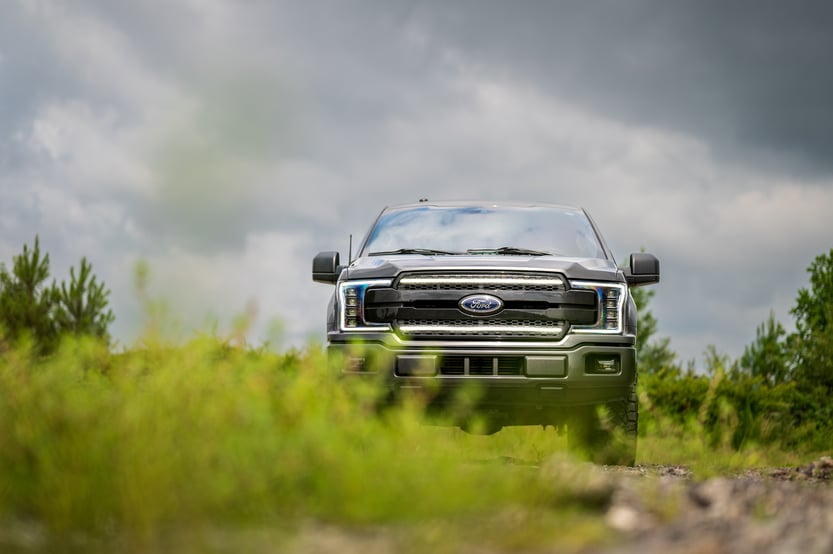 Built with the typical Morimoto quality, you will be troubled to find better LED accessories out there for your truck. Morimoto has proven itself over the last few years of being one of the best lighting brands in the business because they are continuously producing high-quality, plug-and-play lighting accessories for a vast variety of vehicles on the market.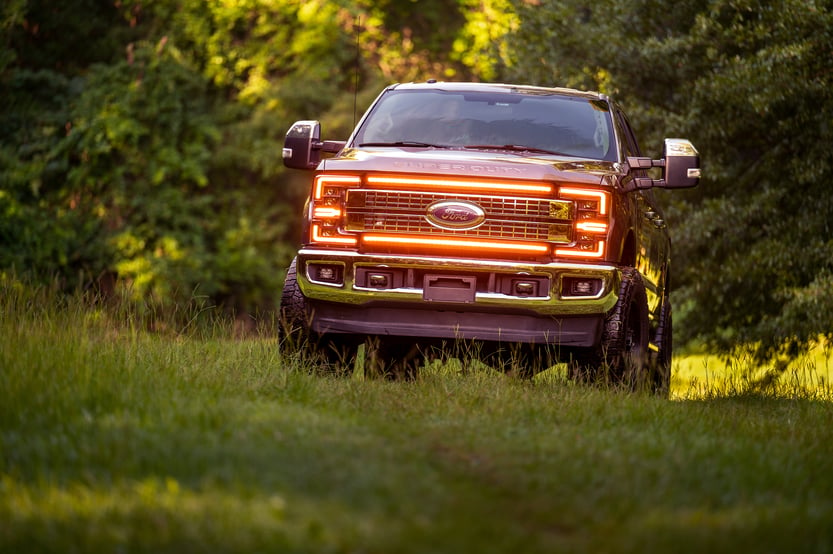 Shop newly released Morimoto products



In-depth on Morimoto's Newly Released XBG Grilles
There has yet to be a product like this available for the Ford truck lineup. Sure, you can get some LED strips off Amazon and go to town DIYing, however, you'll lack the performance that these fully integrated DRL Bars contain. The quality and intensity from the Morimoto optics would make your DIY project look like a wasted weekend. The new grilles use the same automotive grade optics and Osram LEDs seen in every Morimoto XB LED headlight unit. That means that this XBG Grille is going to be insanely bright making sure that your presence is known on the road. Don't worry, though. You won't be the one blinding anyone with this upgraded grille. Morimoto puts drivers first and included features that help with both daylight and nighttime driving. During the day, you're going to have an easily visible DRL. But during parking light, low beam, or high beam modes the XBG grille will auto-dim to prevent glare at night for you and other drivers.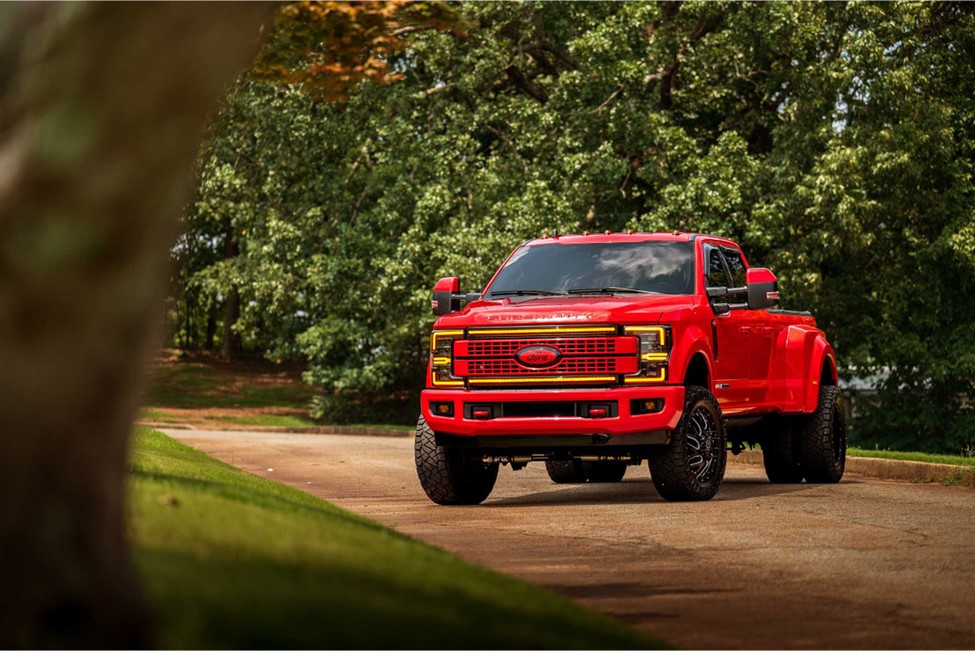 The XBG Grille is available for the 2018-2020 F-150 models and the 2017-2019 Super Duty models. Since Morimoto knows you put style and performance first, the LED grilles are offered in either white or amber to perfectly match the XB LED headlights. The XBG Grille is not just the LED light bars, it is a complete grille replacement for your truck. The grille is offered in chrome or black to be paint-matched at your desire. They use all the stock mounting points and hardware which means installation is as easy as possible. The integrated LED lights completely plug and play with your stock wiring harness, so no modifications are required during installation. If you have an OEM LED truck from the factory, there's no need to worry as these grilles will work for you too.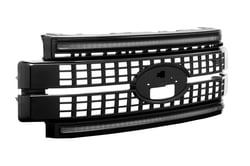 Morimoto XBG Grilles
Starting at $1,000

A Closer Look at the Gen 2 Headlights for the 2017-2019 Ford Super Duty
If you've already upgraded to the Morimoto headlights and currently own the Gen 1 units, don't panic yet. Your headlights are still just as relevant and high-performance as the rest. The big difference for the Gen 2 unit of the Morimoto headlights is the appearance. They now resemble the 2020+ Super Duty headlights with a similar style. These headlights hit every mark we can think of when it comes to the best lighting – looks, performance, and functionality. The new styling offers an incredibly modern upgrade for the front end of your truck. The DRLs still share a similar shape to the OEM LED headlights, however, the Morimoto headlights have the unique Y-shaped optic in the middle.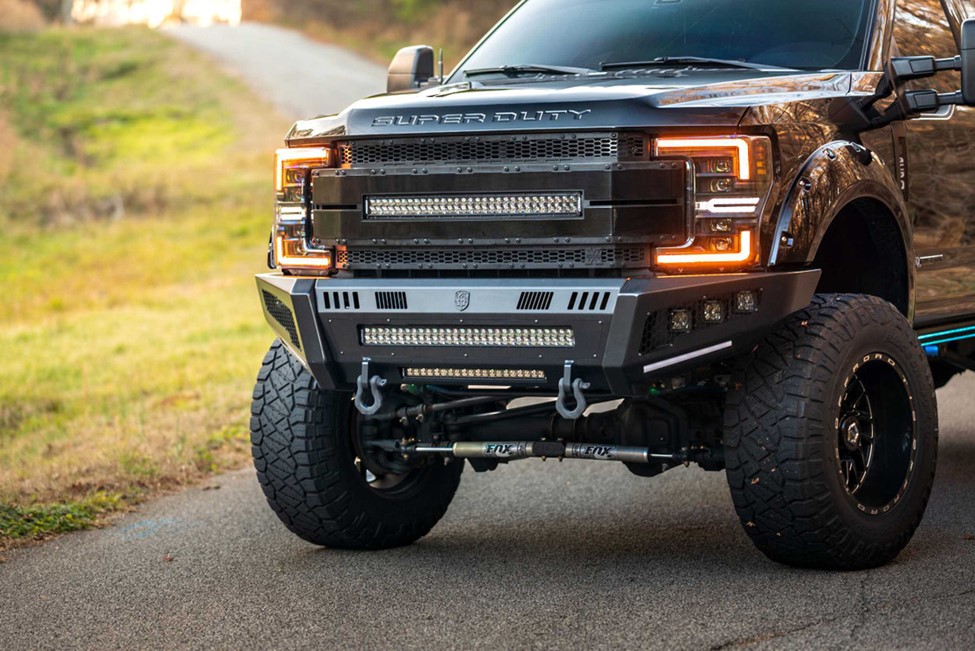 This Y-shaped optic also acts as the turn signal. Like every other Morimoto XB LED headlight, you can choose to run either a standard or sequential turn signal. Depending on your preference, you can opt for either the white DRL or the amber DRL. The best part is the unique start-up sequence that happens when the lights first turn on. The projectors seem to dance behind the headlight lenses, illuminating in a two-stage sequence before powering back off. Though this does absolutely nothing for the actual performance of the headlights, it is an addicting feature that you'll find yourself wanting to watch daily.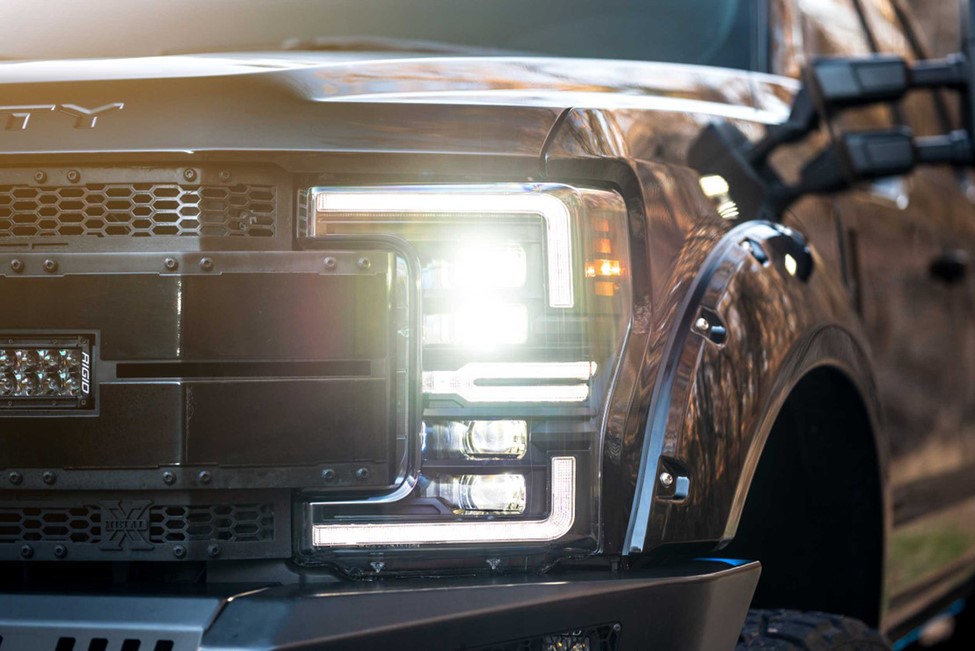 While we commend all the cool features that Morimoto includes the real investment in these lights is the outstanding performance and quality they provide. The Gen 2 units use bi-LED projectors to produce a massive amount of light output to improve road visibility. This means that all four projectors are used for low beam and high beam, a total of 8 projectors being used for both sides of your truck. They provide 57% more intensity and undoubtedly make them the best option for aftermarket lighting for the Ford Super Duty. Like all other Morimoto XB headlights, they are DOT-compliant and fully road compliant. The installation will be a breeze as these are also plug-and-play, meaning installing your new headlights and XBG grille will ideally take less than an hour.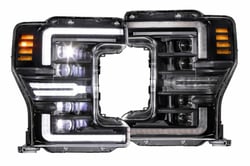 Morimoto XB LED Headlights 2017-2019 Ford Super Duty (Gen 2)
$1,700.00

Conclusion
Morimoto always knows how to create the best products in the lighting industry. Their XB line of fully-LED headlights are the highest performing headlights thanks to the build quality, insane light output, and plug-and-play compatibility. Not to mention, you're backed by Morimoto's 5-year warranty because they know their product and stand by the quality. The XB LED headlights to complement the new XBG grille perfectly to create a unique front-end that ensures you stand out from the crowd.
If you would like to see these headlights in action, check out the video below where Morimoto gives you an overview of the XB LED headlights for the 2017-2019 Super Duty models. If you are interested in learning more about the XBG Grilles, click here to see Morimoto introduce their new product lineup.
Want your own set of XBs but do not have a Ford truck? Head over to their website, put in your vehicle Year/Make/Model, and see what Morimoto has to offer for your ride.
Have any questions about the products mentioned? Looking for something Morimoto does not offer? Just want to say 'Hi'? Drop us a comment! We would love to hear from you. In the meantime, stick around the Better Automotive Lighting Blog for all the latest on the automotive lighting world. Also, check out our Facebook page we just started. Be sure to drop us a comment and leave a 'Like' to let us know how we are doing.