For a long time if you wanted to update your headlights to something brighter or a different color than stock the only option was to install an HID conversion kit, and this product has really been the only decent option for about 10 years now. In late 2013 a new product was announced by GTR Lighting that is set to shape the headlight landscape for the foreseeable future! I'd like to introduce to you the LED conversion kit and hopefully explain to you what the difference between this new LED kit product is when compared to an HID kit.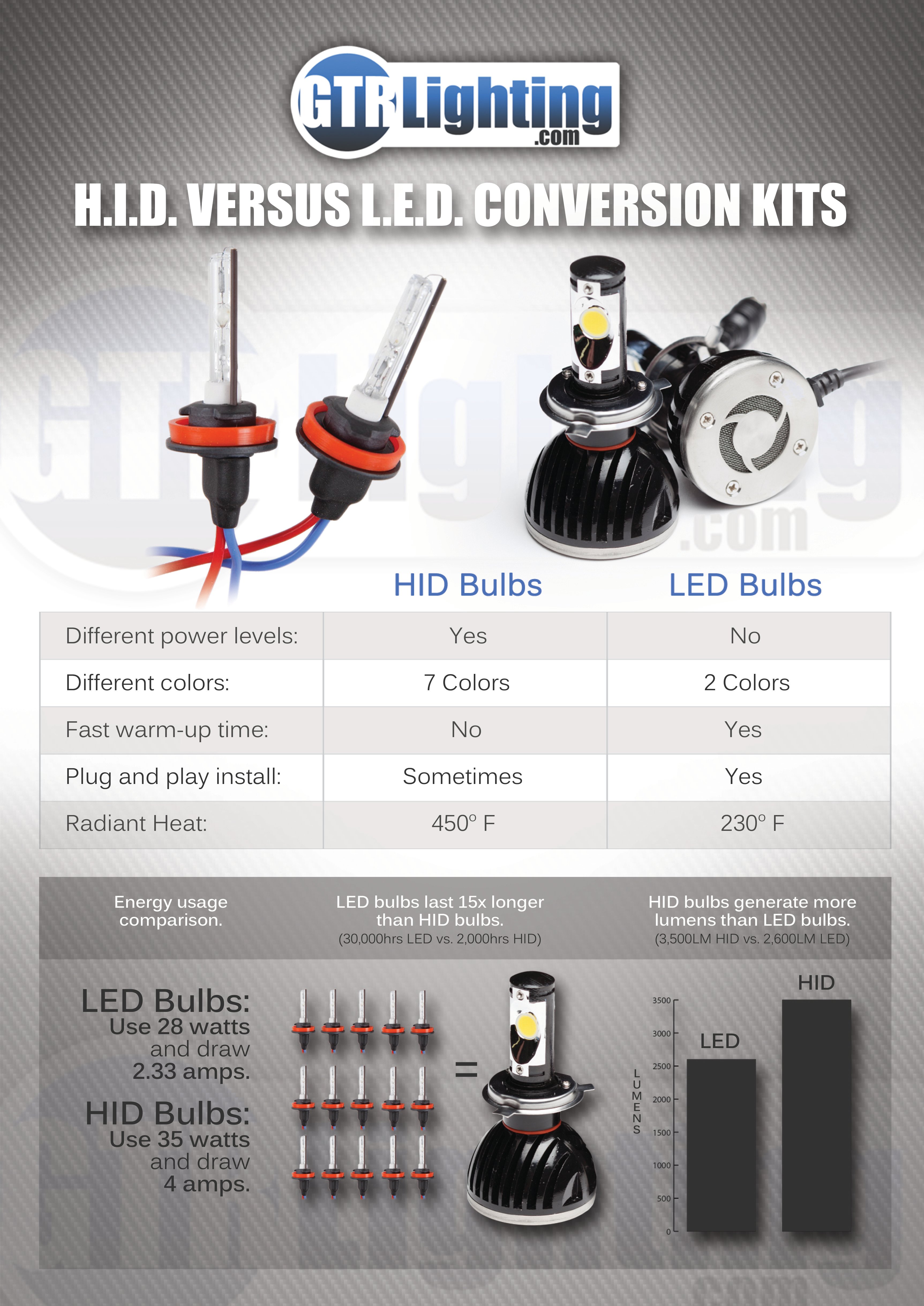 This infographic shows the main differences between HID and LED headlight conversion kits.
Here are the main points broken down even further:
First of all, HID and LED aren't necessarily better than one another, they're just different. You need to understand both products then decide what you want.


As of right now each brand is only offering 1 power level, where with HID you can get 15w, 35w, 55w, 75w and 100w. I imagine this will change in the future, but right now LED is only available in one size per manufacturer.


As of right now LED headlight kits are only offered in two color choices: 5,000K or 6,000K and most manufacturers are only offering one color. If you want a special color like gold or purple, maybe HID is more your style.


HID bulbs take anywhere from 4 to 15 seconds to fully "warm up" and get to their full light output level. On the contrary LED headlight kits are "instant on" and require no warmup time.


Single beam HID kits and single beam LED kits are equally plug and play as another. HID bulbs are smaller, so in some cases they're easier to install. But when it comes to dual beam kits, LED is way easier to install. A dual beam (aka Bi-Xenon) will require a relay harness ran to the battery, and ballasts mounted and wired up at each headlight. The same bulb in an LED kit will be plug and play just like it's single beam counterpart.


A lot of people are concerned about adding heat to their housings when doing headlight upgrades, especially when looking at replacing a low power bulb in a fog light with an HID. Now with LED it's not an issue. LED headlight kits are almost half as hot as an HID bulb.
LED bulbs draw 2.33 amps at 23 watts and HID bulbs draw 4 amps at 35 watts. This is not really an issue for modern vehicles, but if you're considering an install on an older vehicle with a weak electrical system, this power saving from the LED headlight might be desirable.


Considering that you wouldn't ever have a defective bulb, by the time you went through one LED headlight kit bulb you could have gone through up to 15 HID kit bulbs. The longevity of LED is HUGE compared with HID.


Right now the best LED headlight kits produce roughly 2,600 Lumens of light per bulb, whereas a standard 35w HID bulb can produce up to 3,500 Lumens of light. This is the biggest benefit to sticking with HID. However, in the near future we could be seeing LED conversion kits that more than double that of a traditional HID kit.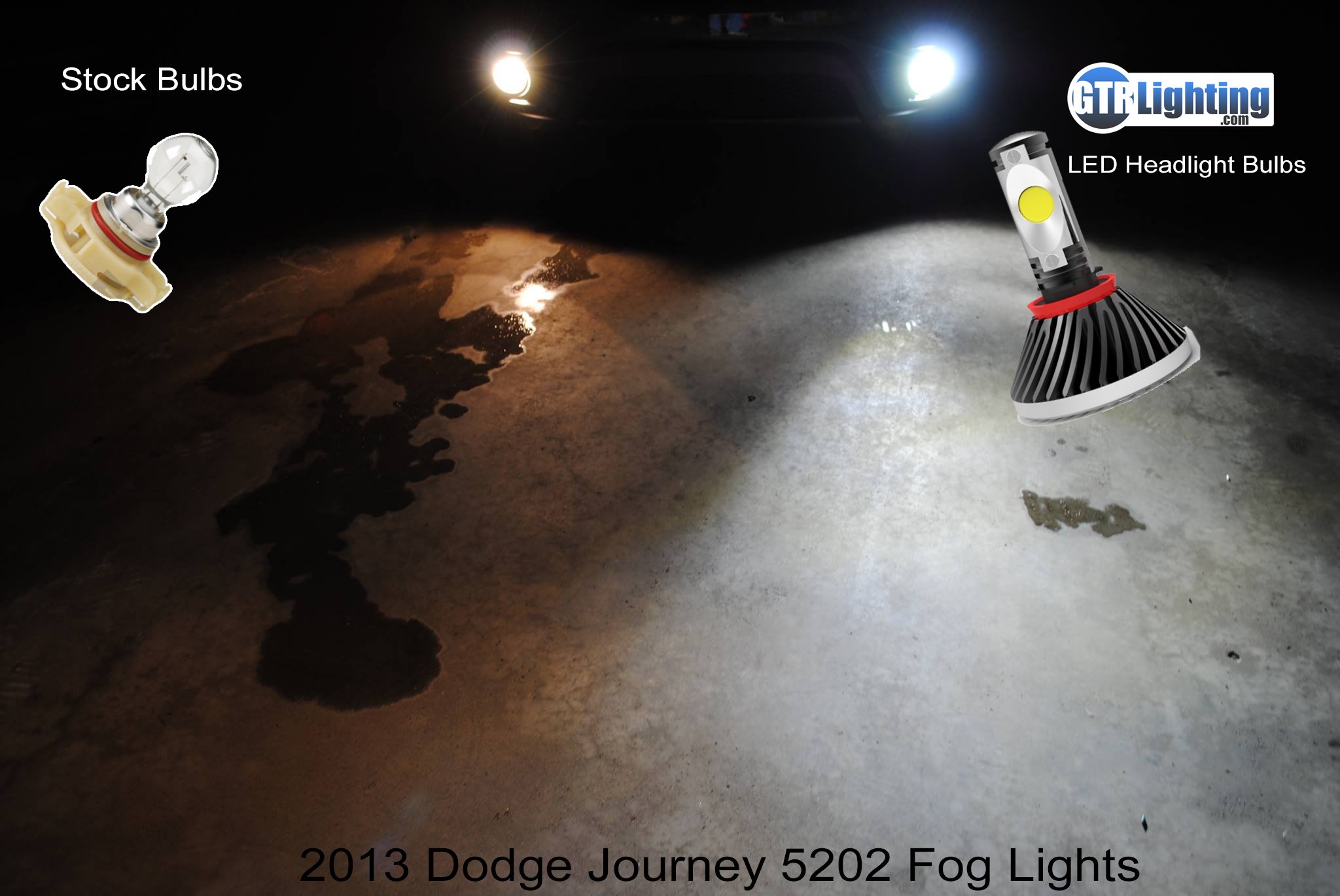 LED Foglight Kit installed
Even though HID kits are still brighter than LED, and they come in more colors, LED Conversion Kits still have their merits. The above picture displays a 2013 Dodge Journey running a set of GTR Lighting 5202 LED conversion kit bulbs. The comparison shows how much better it is than the original 5202 bulb.