Don't get caught lost in the dark! See further with the ultimate LED lighting upgrades for your 09-18 Dodge Ram from Morimoto lighting.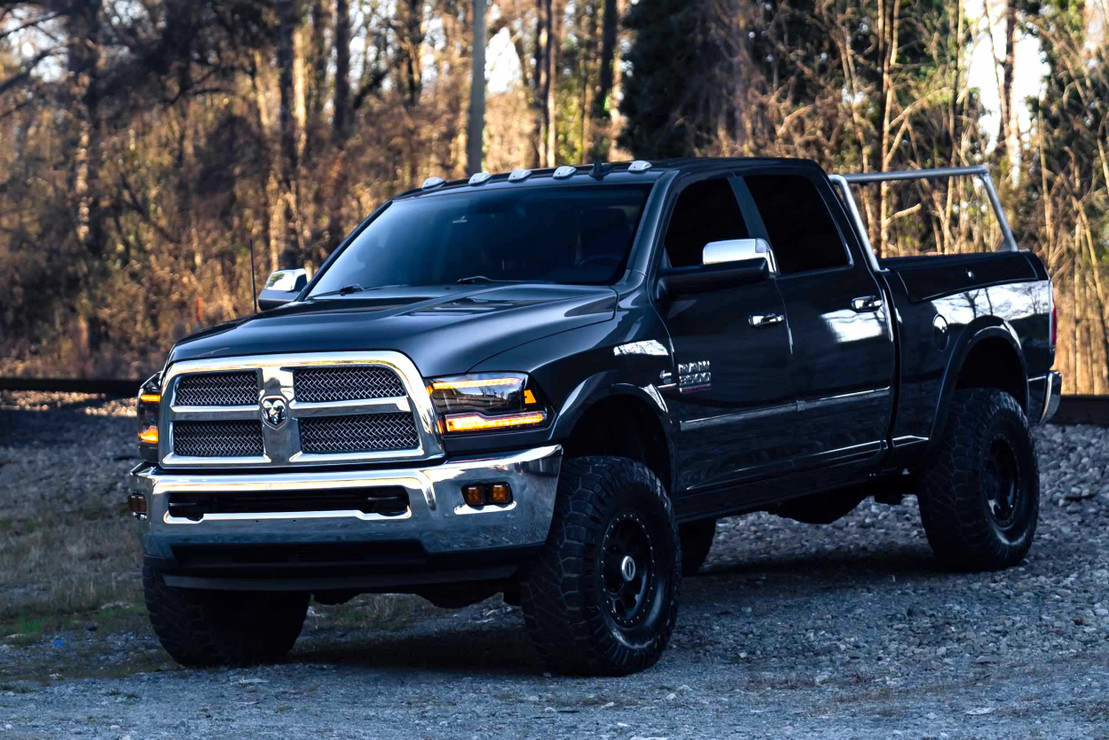 Whether you're throwing clay around on the trail or breaking necks at the next truck show, these products are guaranteed to shine bright through anything you can put it through.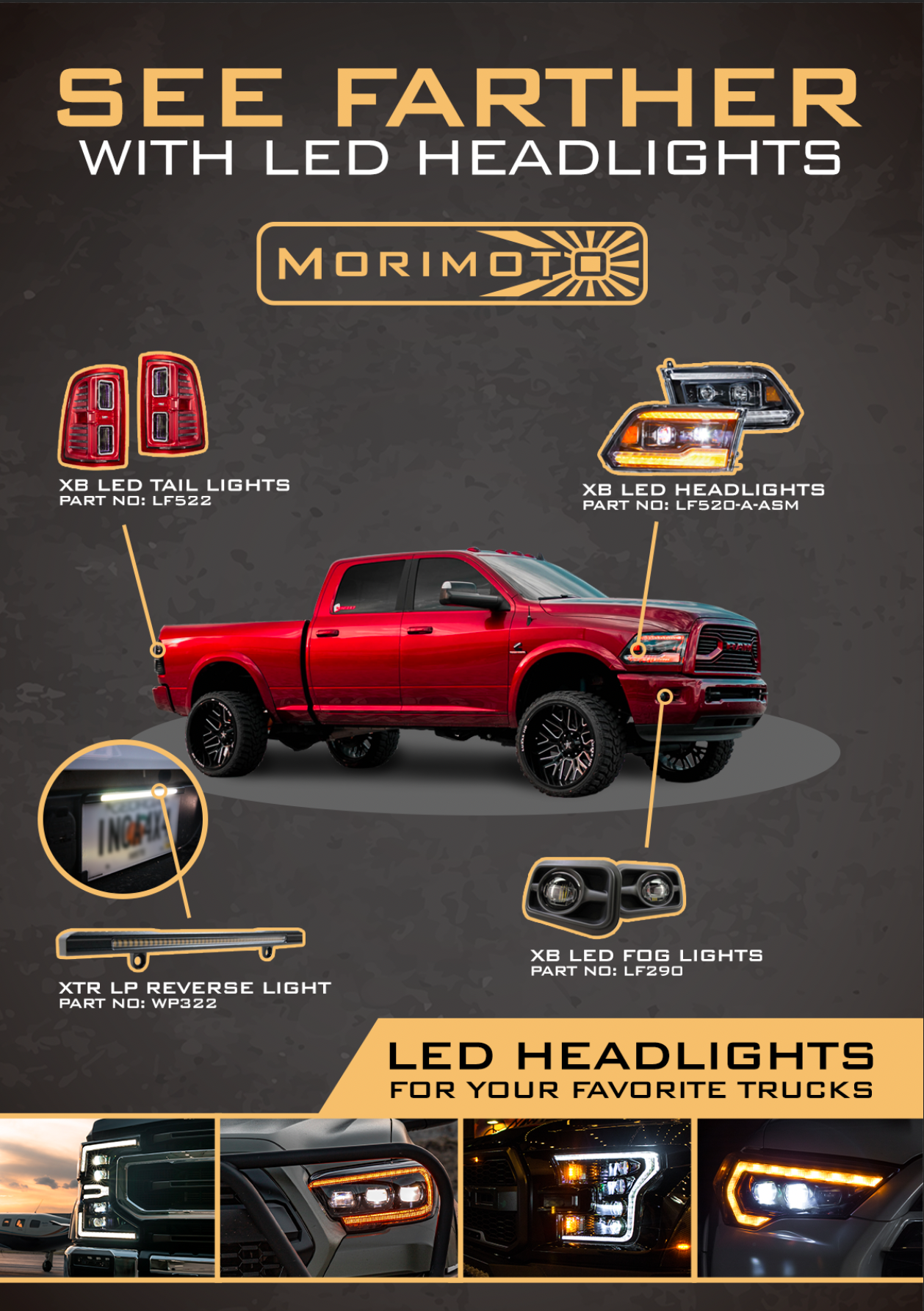 XB LED Headlights
Go ahead and throw those OEM headlights away and upgrade to the Morimoto XB LED headlights. These lights are plug-n-play and powered by a gorgeous sequential LED DRL setup.
The build quality is unparalleled with a UV-coated polycarbonate lens and PPS plastic housing that is lightweight and stronger than comparable products out there. Other brands don't test their products like Morimoto, which results in a downgrade from the already lackluster OEM halogen setups.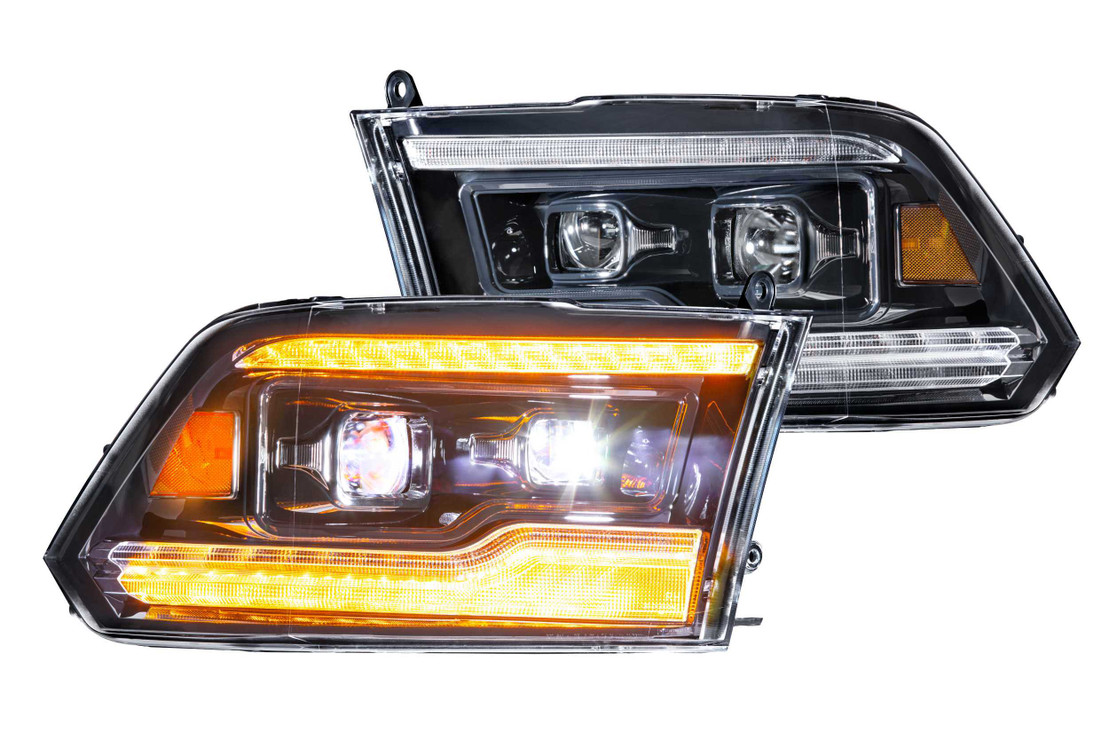 This probably means you spent a lot of money on a downgrade in product, which affects your ability to see at night safely and hurts the wallet too. These XB headlights are guaranteed to get you through the darkest roads, withstanding the worst conditions, and look great while doing it.
The beam pattern on these headlights is well-defined with a broad, intense, and proper light distribution with the XB's double bi-LED design. Don't settle for stock or mediocre; see clearly and be seen with a modern upgrade from Morimoto!
Check out this video on how to install the Morimoto XB headlights on your 09-18 Dodge Ram:
XB LED Tail Lights
If you're already upgrading the headlights, why not throw in a new set of tail lights too? These Morimoto XB LED tail lights are a top seller and a direct swap for the original tail lights. This design flows perfectly with the body lines of the Ram and available with either a smoked or red option.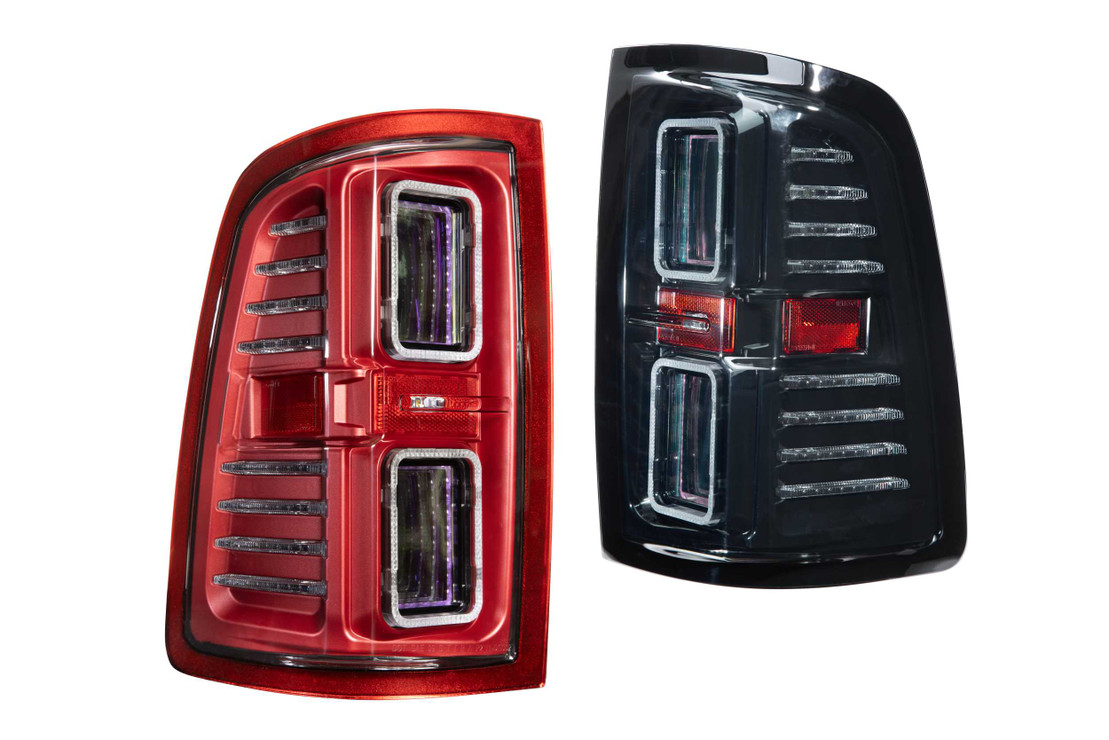 Like the other products from Morimoto, these tail lights are tested rigorously as their commitment to providing a fantastic product you'll be proud of to have on your truck. Get the best looking, easiest to install tail lights for your Ram on the market, and really show out!
Ready to learn more? Check out this video:

XTR LP Reverse Lights
Now you can see from here to Timbuktu, the drivers behind you can see you at night, but what about when you have to flip it in reverse? Back it on up and give your reverse light a boost with this XTR LP Reverse light system. The XTR produces the perfect reverse light beam pattern and leverages optional refinement over purely raw power.
This Reverse light is a straight bolt-on product, bolting right onto your existing top two license plate mounts. The 180mA driver produces 29.9W of maximum power, pumping out 2700 raw lumens, translating 1950 actual lumens through the optional lens. All of this and more results in a high-output reverse light guaranteed to help you see right where you want to go. Check out this video to see for yourself:

XB LED Fog Lights
Last but not least, what about those fog lights? Cut through the worst conditions with a little help from these XB LED fog lights from Morimoto. These are a direct swap in place of the original halogen fog lights, with fully integrated height adjusters for the perfect aim.
In addition to meeting SAE, DOT, and ECE standards, these fog lights are extremely well-built with a powder-coated cast aluminum housing and durable polycarbonate lens. Don't get stuck behind the times with dim, OEM fog lights, and finish up upgrading all of your 09-18 Ram's lighting!