We've been hearing reports of people purchasing JW Speaker brand LED fog lights and headlights, from supposedly trustworthy retailers on the internet, only to find out that they were lied to, and what they received was a cheap Chinese knock-off! I wanted to take some time to put this comparison together for you to make sure you're actually getting what you paid for!
In today's world of modern technology, it's becoming easier and easier for lazy companies around the world to copy somebody else's innovation to create a spin-off of lower quality/performance. Now, the Wisconsin, USA company J.W. Speaker Corporation is no exception!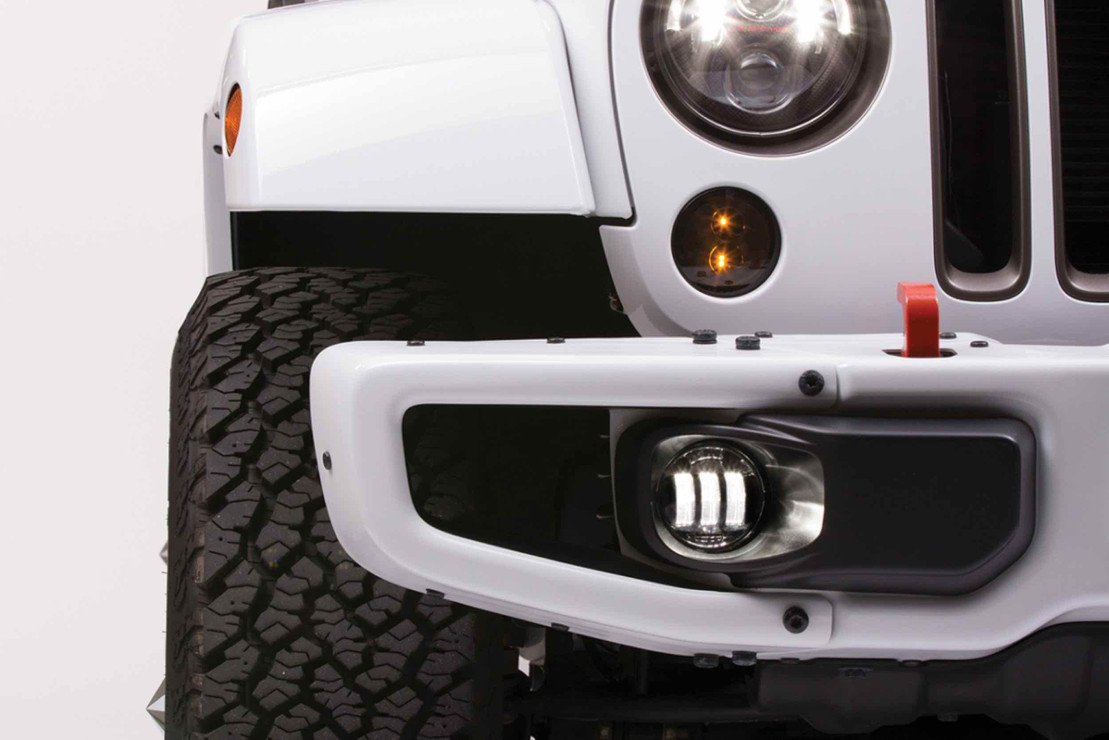 We recently got our hands on a set of real JW Speaker 6145 lights, and JW Speaker 8700 Evolution headlights and tested them against a counterfeit version to see what the differences are. What we found was not surprising. After all, if a product is worth copying in the first place, then somebody out there thought it was a great product and instead of creating their own, they were unethical and just copied it.
The lights looked similar in size and shape, but all of the details were missing. The JW Speaker lights had way more light output, they are built with better materials (sealant, wires, connectors, lenses, etc…) and the fit & finish of the JW Speaker brand products were much nicer compared to its inferior twin.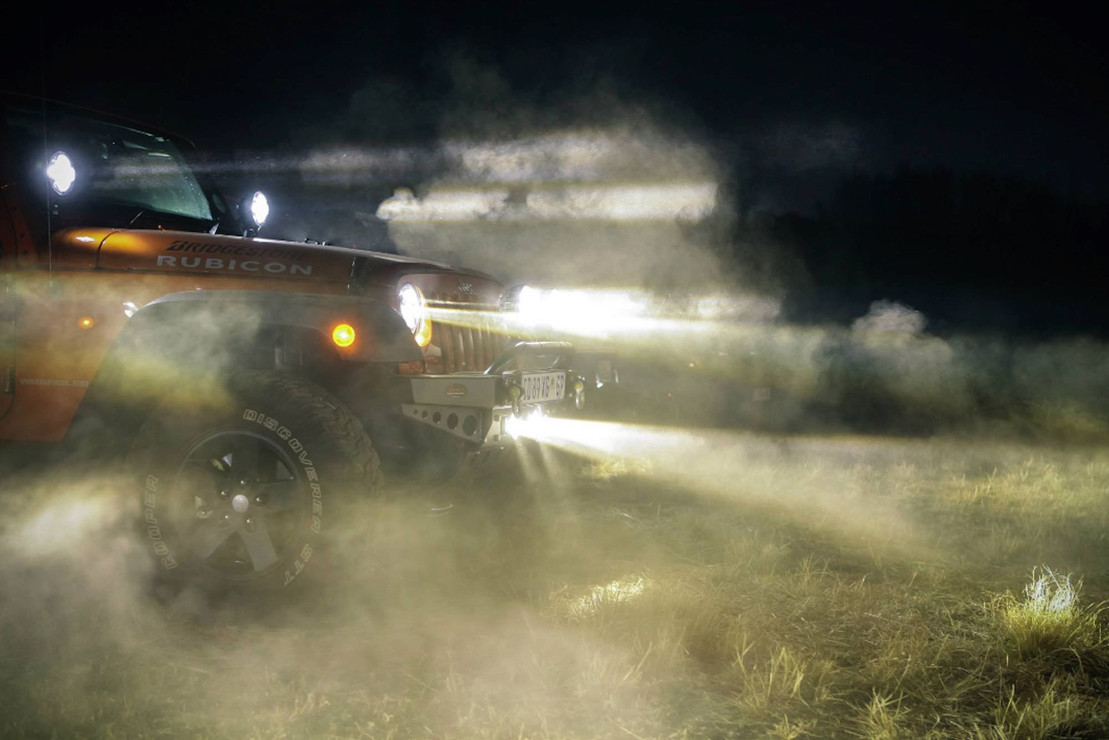 You should especially watch out for dishonest sellers trying to sell you the real thing on websites like Amazon, eBay, and other international sales platforms on the internet. Platforms like these are riddled with copycat products and identical knock-offs you should be aware of. If you have any doubt, just compare their products to this review and there should be no question if it's real or not!
First, here's a comparison of the real JW Speaker 6145 LED fog light, and the Chinese knock-off version: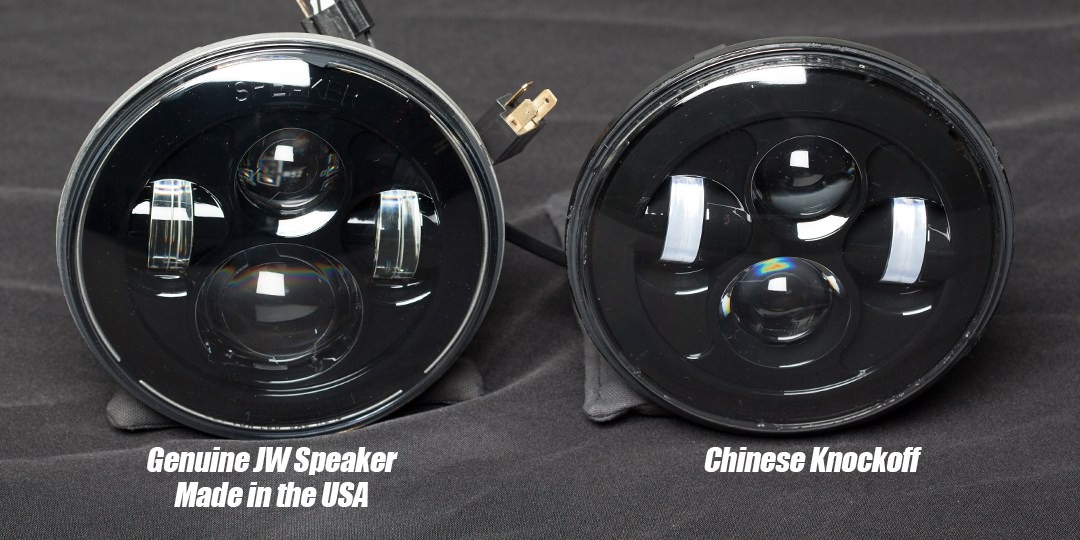 It's important to know if you are buying the real deal or someone's cheap knockoff. Here's a comparison picture side by side showing the JW Speaker 6145 and it's terribly performing the counterfeit copy.
All JW Speaker LED fog lights are built using the industry's best practices, even down to the details like how the lens sealant looks when finished! Not only is it important for the sealant around the lens to look good, but a poorly applied lens sealant will also cause moisture problems.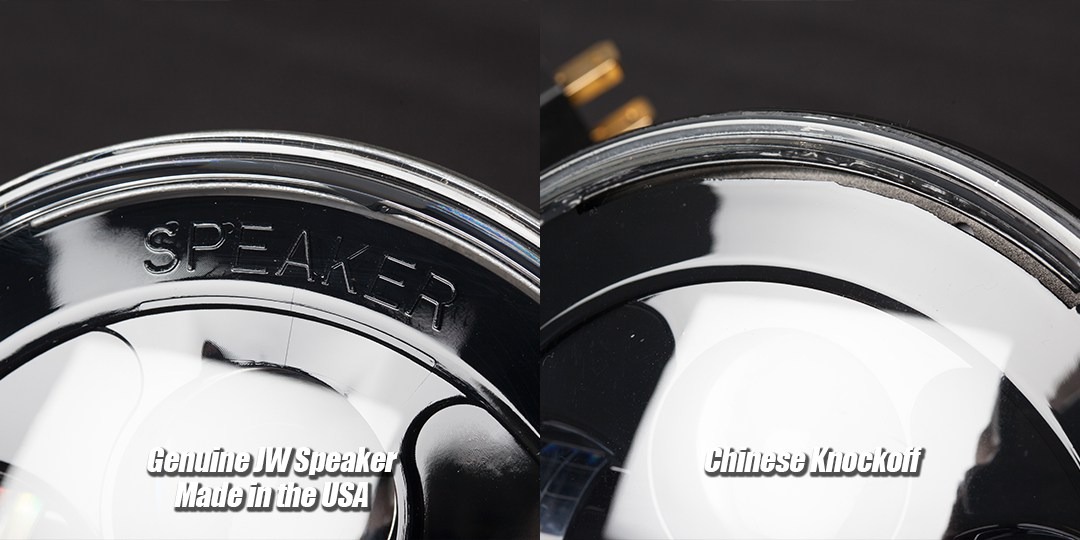 On the original JW Speaker 6145 you can clearly see the Speaker logo embossed on the fog light bezel. The knockoff is blank. All JW Speaker LED headlights and fog lights come with a lifetime warranty, but they also tell you exactly what month and year they were manufactured.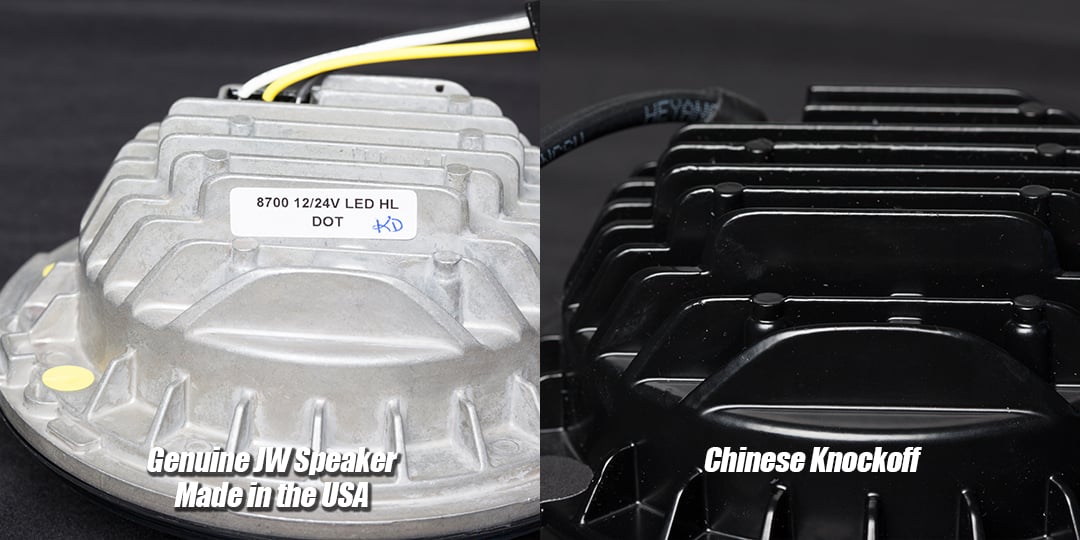 Here you can see the real one shows a sticker with the production date listed. Real JW Speaker lights do not cut corners, so in this side-by-side example, you can see that the real one uses thick metal construction and high-quality hardware components. The cheap Chinese version has thin metal attachments and low-quality components which will give you more issues during install.
JW Speaker LED headlights and fog lights are sealed to IP67 waterproof ratings. This is evident in how the wires are sealed at the back of the housing. The Chinese knockoff of this light does not do a good job of sealing the backside of the housing from moisture.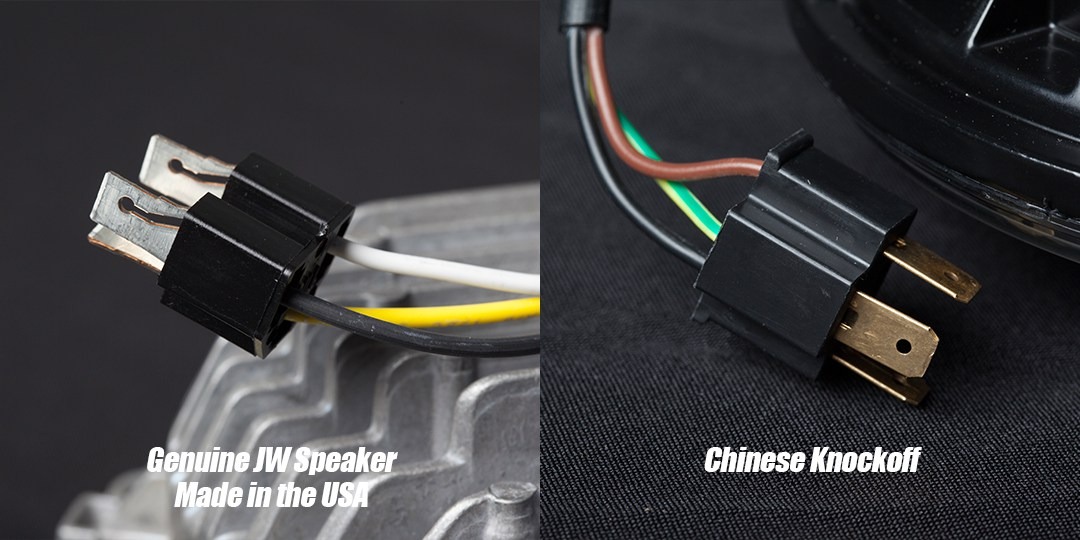 With real JW Speaker lights, you will never find cut corners on quality even when it comes to the wiring and connectors. Here you can see that not only does the JW Speaker product use the highest quality connectors, but also heavier gauge wires.

Here you can see the real JW Speaker LED fog light beam pattern is brighter, taller, wider, and has fewer weird shadows in the beam pattern. The fake light has a very small and un-impressive beam pattern.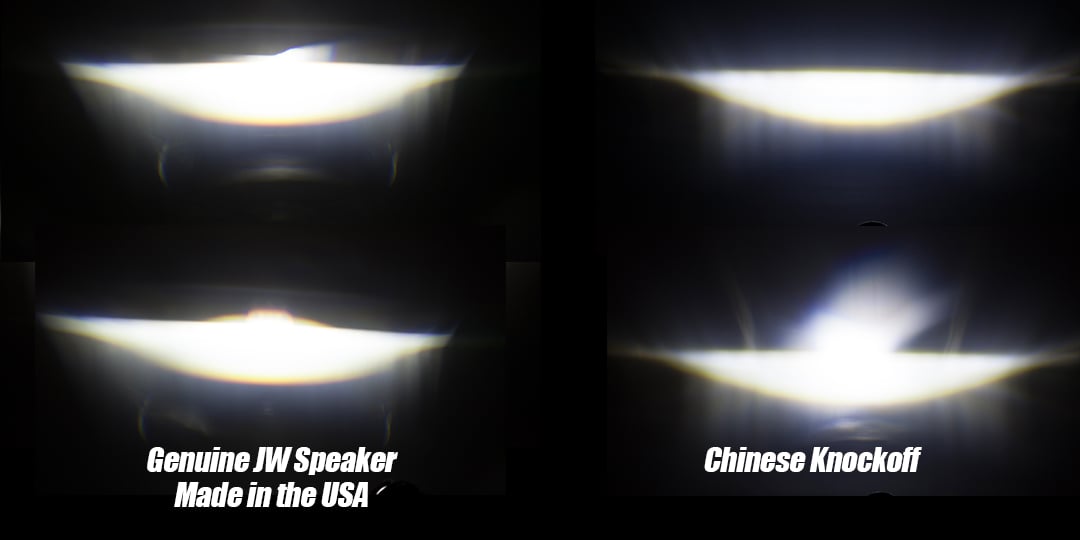 Now, here's a comparison of the real JW Speaker 8700 Evolution LED headlight, and the Chinese knock-off version: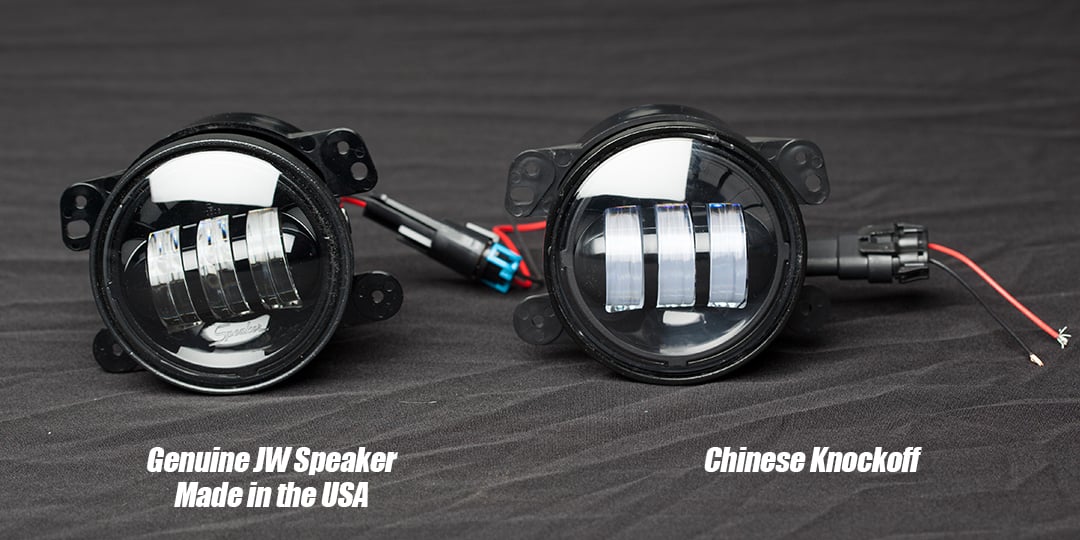 This is the JW Speaker 8700 Evolution side by side with a Chinese counterfeit knockoff product that's supposed to look like the real thing. But trust me, they are very different! The backside looks very similar, but it's the important details that matter such as the type of harness that is used, the moisture vents, and the wiring connections.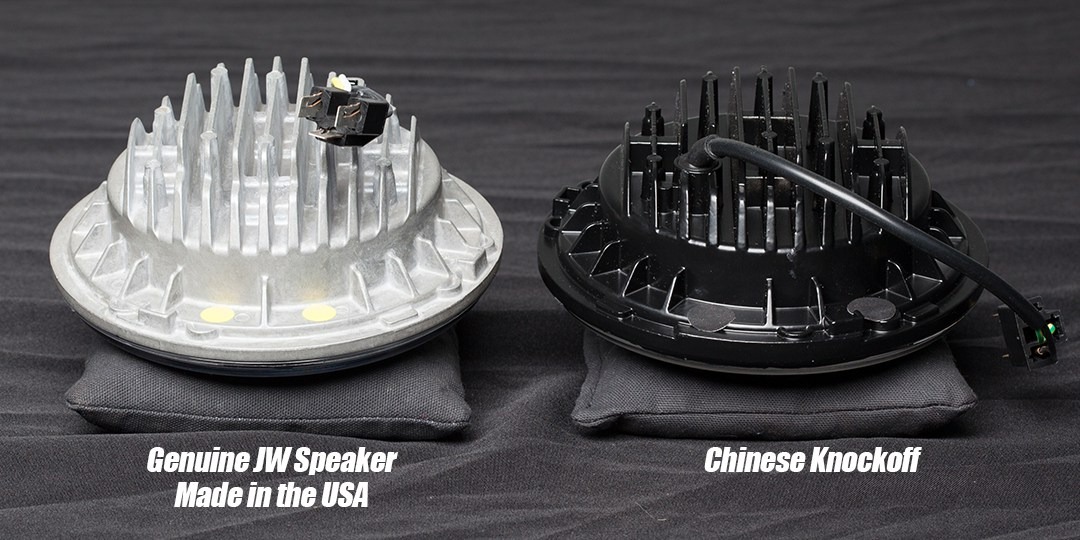 The real JW Speaker headlight uses high-quality moisture vents on the backside that are sized properly for the application, where the cheap knockoffs use random oversized vent covers that will fail over time. JW Speaker LED headlights are sealed to an IP67 weatherproof rating, the Chinese knockoffs have no IP rating to speak of.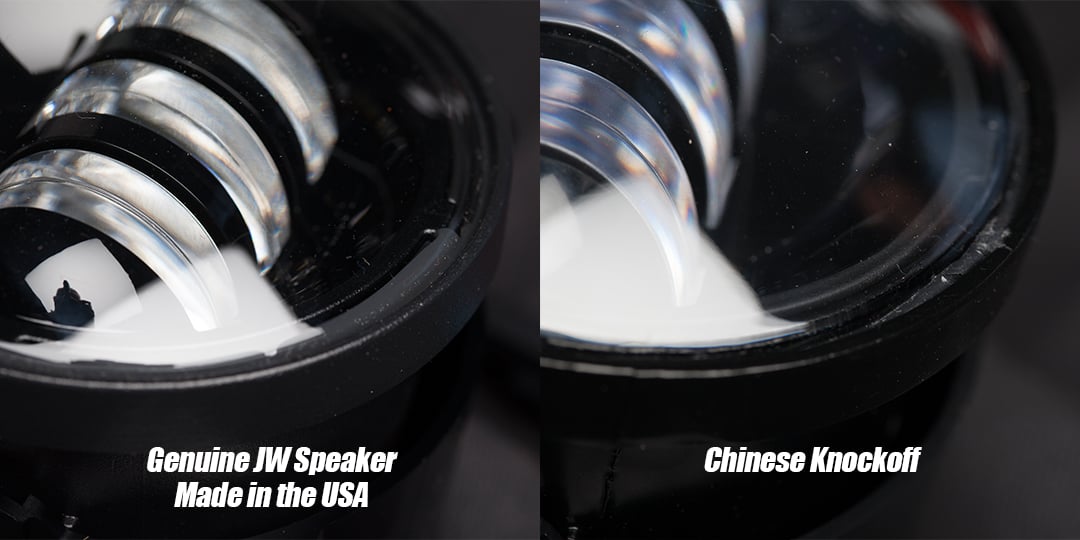 You can see the different wiring methods used by both here and one is safe to use and the other is not. The Chinese version has the wires covered because they don't want you to see how easy it is to get water into their housing. When you knock off a product you need to cut corners everywhere to make it cheaper. Even in the connectors!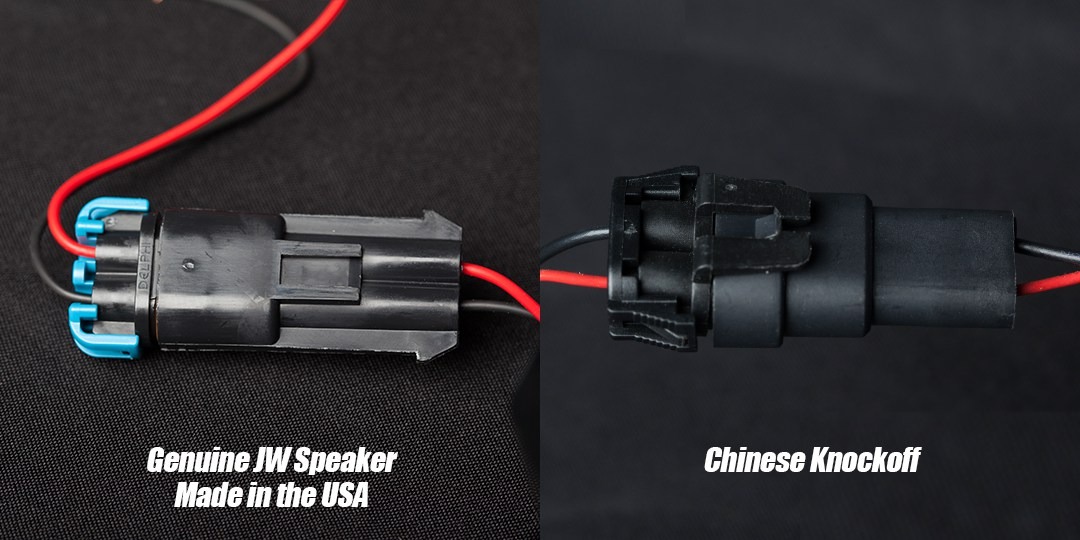 JW Speaker uses the industry's best quality H4 style connectors, where the Chinese copy uses a low-quality, inexpensive connector that is prone to having crimp and connection issues.

The JW Speaker 8700 LED headlights are DOT and SAE approved, and it says so right on the lens! The cheap Chinese copy is not DOT, ECE, SAE, or any other 3-letter acronym approved by anyone! Also, JW Speaker LED headlights are made in the USA! Real JW Speaker LED headlights are easily recognizable because you can see the company logo stamped right into the bezel of the light.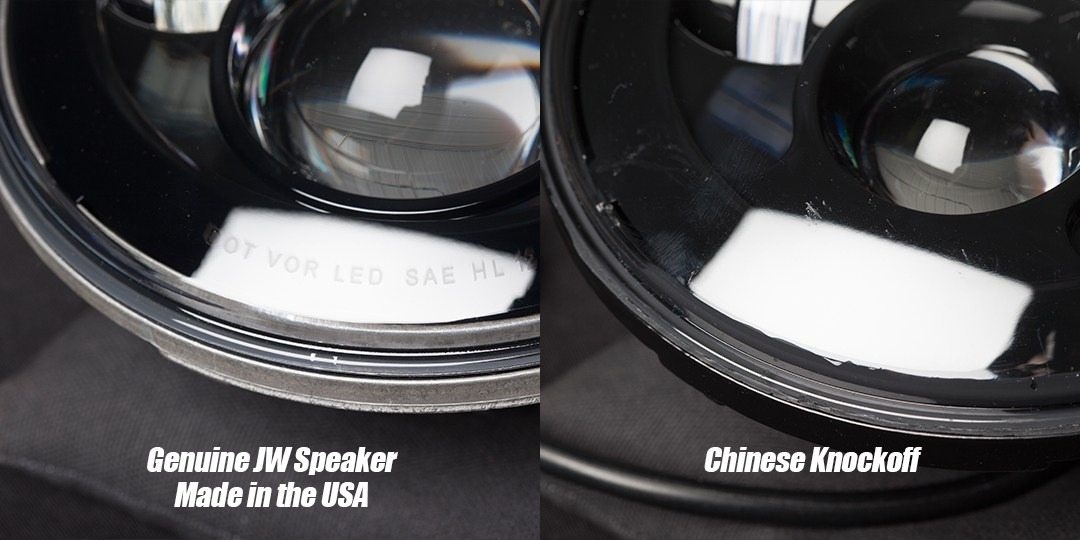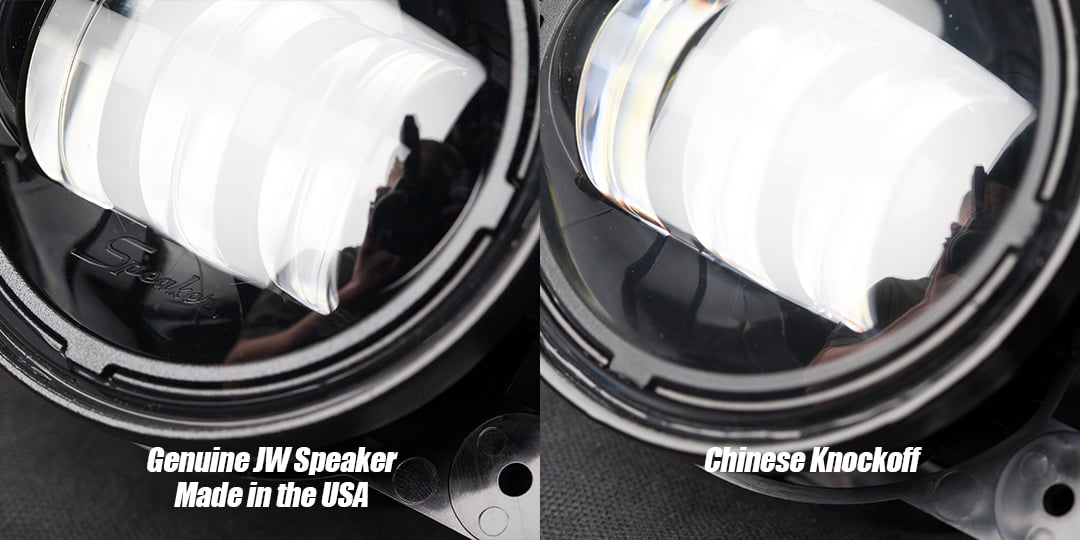 There's no doubt if you're getting the real thing here! One of the reasons JW Speaker LED headlights are better than cheap copies is they use the best materials in the business, and they do all their own product engineering. It's not a randomly selected LED, it's not an off-the-shelf optic, and it's a custom-built power supply.

Here you can see that the knockoff headlight uses a tiny high beam projector, and cheap LED chips. All JW Speaker LED headlights will have identifying marks on them, including a handwritten inspection label so you know you're getting the real deal! All JW Speaker LED headlights will have identifying marks on them, including a month and year label to indicate time of production, so you know you're getting the real deal!

Here you can see the differences between the high and low beam outputs on the real versus fake headlights. The genuine JW Speaker products have no funny shadows being thrown around, and have a much higher power high beam. The Chinese knockoff lights look like the high beam might be better, but when shining down a road a couple of hundred feet, the real American-made JW Speaker headlights go about 3 times further down the road!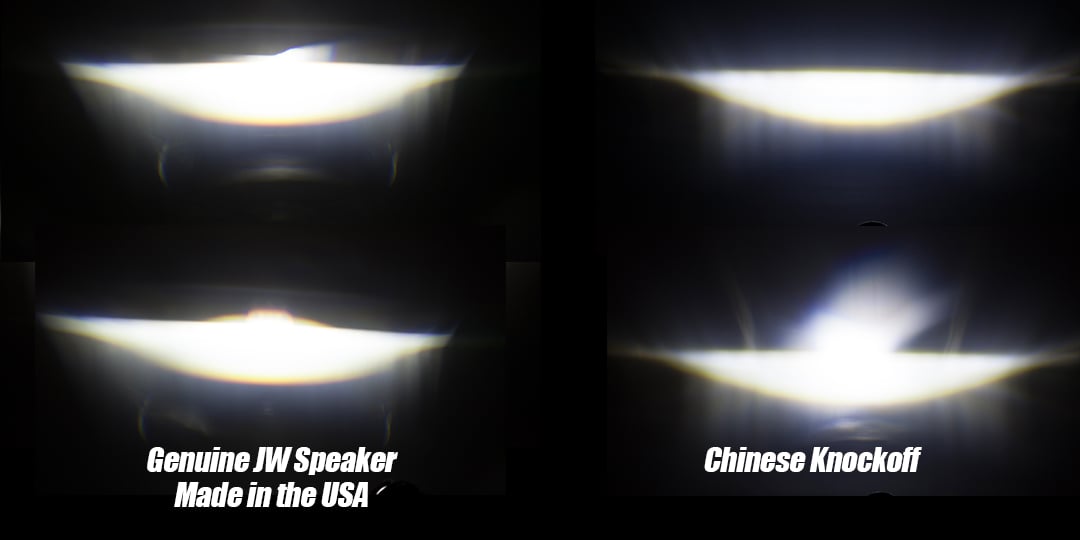 Hopefully, this comparison helps you from getting ripped off in the future when you are trying to get a good quality product. Why waste your money on a cheap knockoff when the real thing is available at authentic websites like Headlight Revolution.