If you're like most enthusiasts, you want to know what's new and exciting coming to the marketplace and new headlight and fog light technology is no exception! I want to show you some information about a wild new product that I believe (within 4 years time or less) will revolutionize the automotive forward-lighting industry! Most car people have already heard of, and many have tried, the HID conversion kit available from many different places. Today they are commonplace at car shows and city streets. Until now an HID conversion kit has been pretty much the only product available for noticeably brighter headlights and fog lights, but just announced at SEMA in November of 2013 was the newest product in headlight upgrades. Introducing the LED headlight conversion kit!

Right now when this post is being made I have seen different types of LED headlight conversion kits that range anywhere from 4,000K – 7,000K and anywhere from 1,200 Lumen per bulb all the way up to 4,000 Lumen per bulb! This is a pretty stark array of options and one of the things to remember is that this product is quite new. Right now most manufacturers only have one color available, but I think this year you're going to see different places offering 5,000K 6,000K and possibly 8,000K as color options, but unlike HID kits there wills till probably only be one power level available for each style of LED headlight kit.
There are currently 2 styles of LED headlight conversion kits available: With Reflector and without Reflector. This (in my opinion) is the most important part of the whole product. Let me show you why:
The first style (the original type of LED headlight conversion kit) uses a giant LED chip on a flat surface and creates light in a chaotic and uncontrolled manner: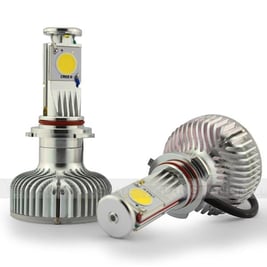 The new style of LED headlight conversion kits (released November 2013) are made by GTR Lighting and use a reflector around the large LED chip. What this does is focus the beam pattern and make it operate more like the original headlight bulb.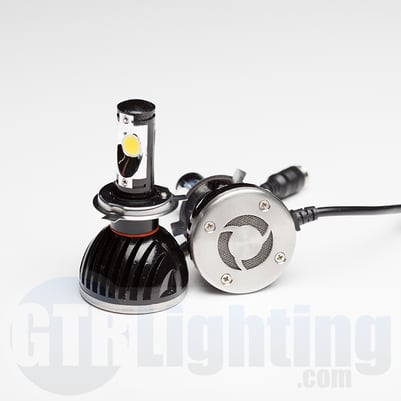 There are 3 main differences between the old style and the new style:
#1: The LED chips have an integrated rocker type reflector around each LED to help focus the light inside the housing, thus creating a more usable light. Just because an LED headlight kit is technically brighter than another due to having a higher Lumen rating, doesn't mean it will work well. The trick is focusing the light – what use is a lot of light if it's everywhere except where you need it?
#2: Hidden/Protected low profile fan – On the old style of LED headlight the fan was exposed and unsightly. On the new style from GTR Lighting you can't see the fan, it's hidden inside the heat sink and protected by a shroud. This makes them more reliable.
#3: The older style of LED headlights didn't have a waterproof connection, and the new style does. Make sure whatever style you're purchasing comes with a single waterproof connection! These things get mounted in places that likely will get wet!