Ever since the 2003 Dodge Ram was introduced to the market Dodge has been developing a very sophisticated and complex lighting control and monitoring system. In today's trucks this system has evolved into one of the most difficult systems to integrate aftermarket lighting into like HID Conversion Kits and LED Bulbs. There are two main types of this new Dodge Ram CANBUS headlight system and the only ways to integrate with them will be discussed below.

This system comprised of electronic drivers, micro-controllers, computers and safety mechanisms uses a technology called CAN BUS (also referred to as "CANBUS" or "CAN bus"). CAN is an acronym for Controlled Area Network. A CAN system is basically a track that goes all over your truck to different parts where the computer data can check in and check out of different stations. Each station provides different data for the main computer to react to. One of these stations is connected to your headlight bulbs.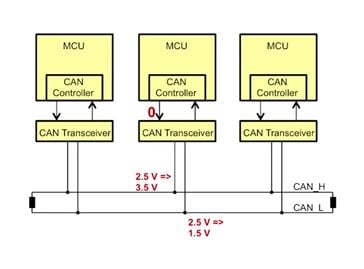 This is a basic / generic look at how a CAN BUS system is set up.
CAN Bus means Controller Area Network Bus. This system monitors your vehicle and reports operating conditions. CAN Bus systems are traditionally only found in European vehicles such as BMW, Audi, Mercedes, Volkswagen, Porsche, and recently we are seeing them used more and more in American vehicles like the Dodge Ram, Chevy Silverado and Ford F150. While most late model American vehicles have CAN Bus systems, it is always good to check with your vehicle dealer to see which system your vehicle has before purchasing electrical products.

DEPENDING ON THE YEAR OF YOUR DODGE RAM you might even need to mix and match Type A and Type B CANBUS integration kits. You could use a Type B kit for doing fog light bulbs and then a Type A low beam headlight kit, and again a Type A high beam headlight kit. Doesn't matter if you're doing LED or HID bulb upgrades, they all work the same with the different CANBUS integration kits. Most of the time the only way to know is to start with one or the other, and if it doesn't work simply swap out the parts for the other kit.
NOTE: The Type B CANBUS fix is pretty much guaranteed to work on all Dodge Ram trucks but it is more expensive and more difficult to install!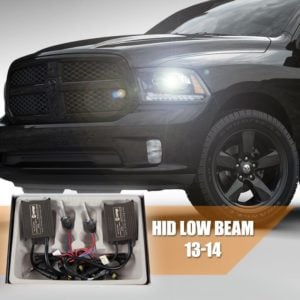 To upgrade your Ram headlights to HID or LED you need to use either the Type A or Type B CANBUS kits.
What is the Dodge Ram Type A CANBUS System?
Introduced in 2009 Ram trucks, the first and least common CANBUS system is called "Type A" and is not as picky in operation. If your 2009-2016 Dodge Ram uses the Type A CANBUS system all you need is a good Hylux GEN 4 HID conversion kit (35w only!) + the Dodge Ram Specific CANBUS Integration module. This is a totally plug and play HID kit upgrade for the Ram headlights and works with almost no issues. Even with this integration kit you still may experience intermittent operational issues like one side not firing at first, or a slight flicker. But other than those slight nuisances they will work great in your Ram truck! To see all of the Type A CANBUS headlight upgrade kits click here for HID or LED.

What is the Dodge Ram Type B CANBUS System?
If you have a 2014 – 2017 Dodge Ram, you probably have the Type B CANBUS System used in your truck. This is the newest iteration of Dodge's complex CANBUS system and has more fail-safes and more checking than the Type A. It will even measure the falling resistance value of a traditional incandescent headlight bulb over time (as it heats up) to ensure that you have the correct wattage light bulb in your vehicle. This system can only be integrated with a Type B CANBUS Integration kit. It is comprised of a good Hylux GEN 4 HID Kit (35w or 55w) + a relay harness with dual resistors for each headlight wiring side and a capacitor. To see all of the Type B CANBUS headlight upgrade kits click here for HID or LED.