FINALLY! A Truck Grill Made for a BRIGHT LED Light Bar
For a long time, the only company you could find an aftermarket bumper, bracket, or grill for was a Rigid Industries product – don't get me wrong, Rigid is an awesome company! Made in the USA, really high-quality standards, and they look cool, but come on!

Their brightest light bar is like 20,000 Lumen of light output, whereas Vision X just released their new 52″ #XIL-PX9010 at a whopping 44,370 Lumen! If you are told by someone that "Rigid's lights are the best and brightest," they're either a misinformed nut swinger or a dishonest Rigid Industries salesman! Rigid's got some cool stuff, but they're not really in the same league of light output as Vision X has proven to be…

But anyway, that's not the point… I want to show you a cool new product by Royalty Core that is ACTUALLY MADE FOR A VISION X LIGHT BAR! This is exciting because everybody makes cool aftermarket truck accessories to fit Rigid, which leaves guys like us who are more into actual light output and quality instead of just a certain brand of product. These new grills by Royalty Core are top-notch quality and look great sporting the Vision X Lineup: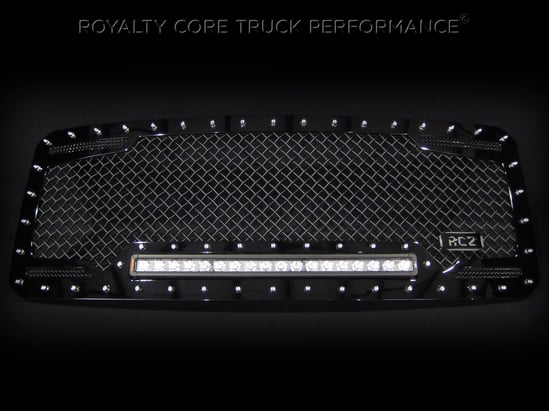 This light bar is built with closed-loop brackets on the backside for an extremely durable install and adjustable brackets for positioning the light down or up. It's totally legit!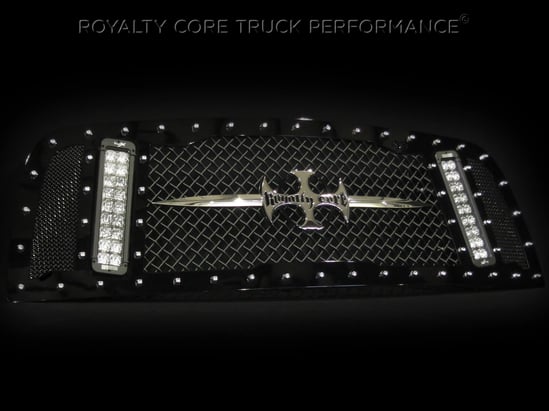 The new Dodge Ram grill (above) is really wild because fully outfitted; you can get almost 18,000 lumens of Vision X-powered light coming right out of your grill! This really makes it easy to get better lighting on the front of your truck if you don't want to run an aftermarket bumper or bull bar.
Way to go, Royalty Core! Your new RCX Light Bar grills are absolutely awesome! Thanks for finally making something for people who care about more than just a pretty brand name!