If you've ever wondered about the differences between the original halogen bulbs that come in your stock headlights, and an upgraded HID or LED bulb, then keep reading!

Most cars and trucks built today come with halogen headlight and fog light bulbs, also called incandescent, and there are 3 ways to increase the brightness:
1. Install a different halogen bulb that runs at a higher wattage.
2. Install an HID Conversion Kit.
3. Install LED Headlight Bulbs.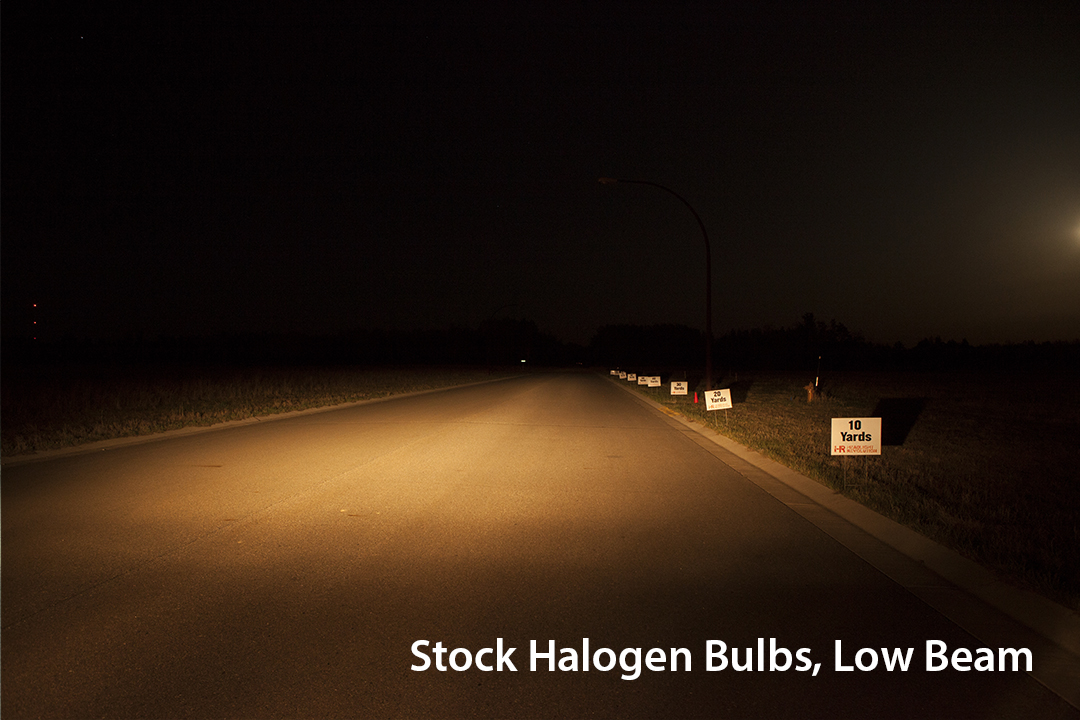 In this picture (above) you can see the light output of a typical modern headlight. It uses a 55w halogen headlight bulb and creates around 900 – 1,000 Lumen of light with a typical yellow-ish hue. If you want to see more at night for safety (increased lumen), or just change the color of the light for a different style, see the below options: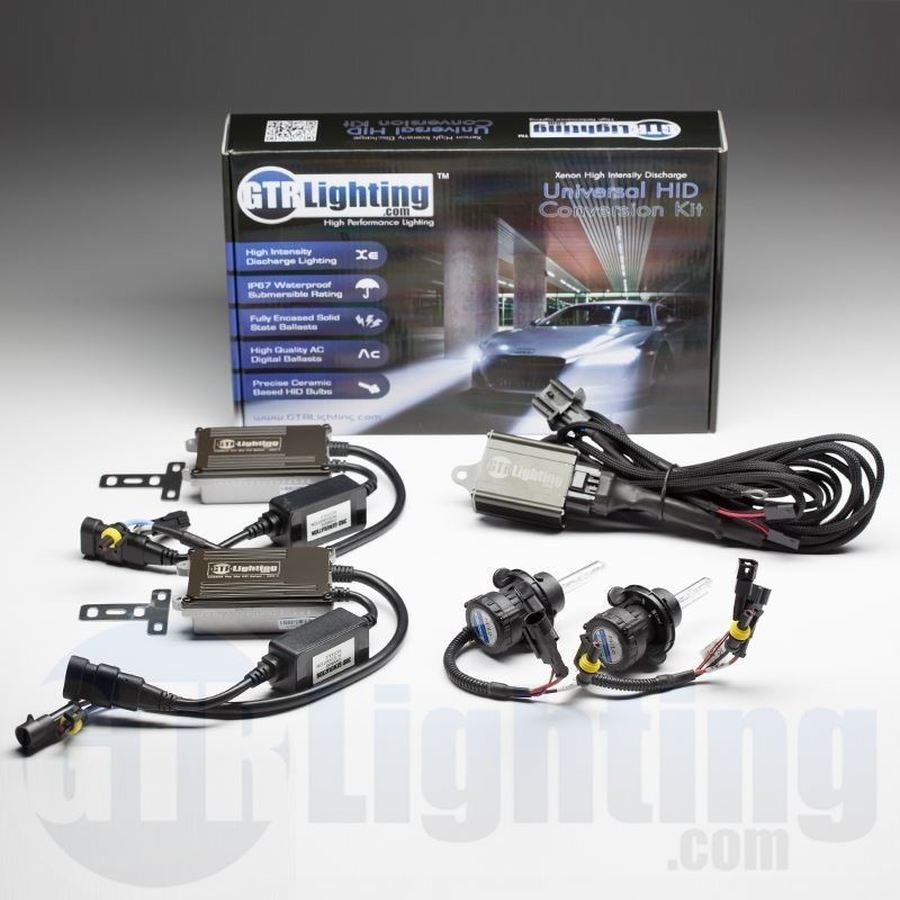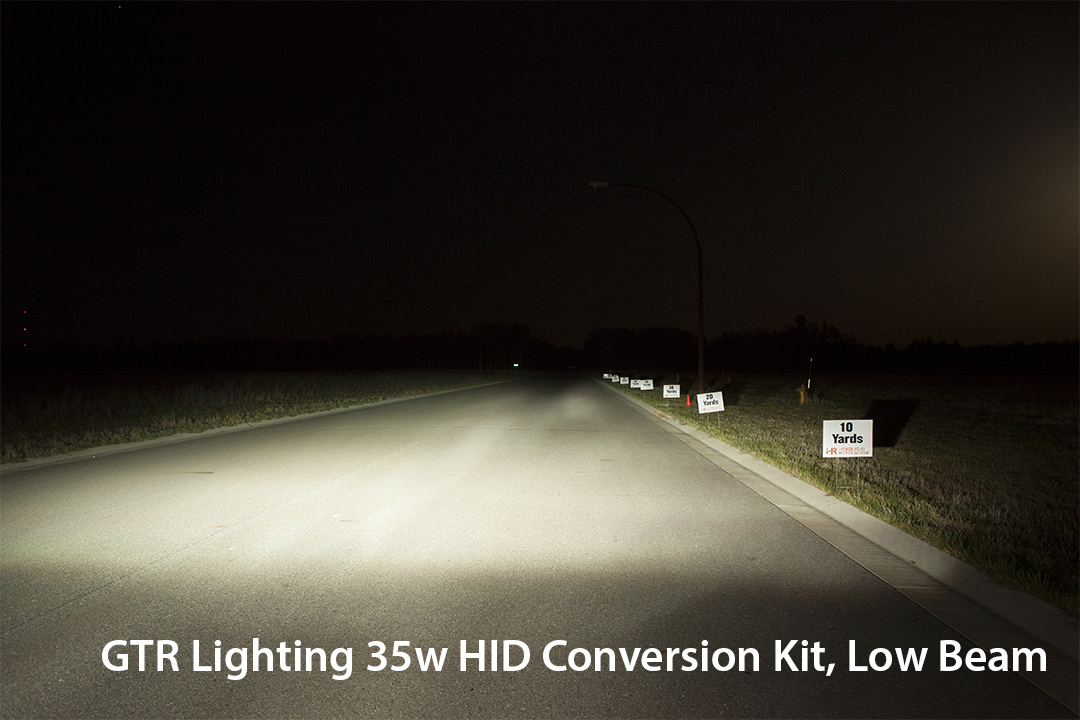 Traditionally an aftermarket plug and play HID conversion kit uses a 35w ballast as shown above. This is less power consumption than the original halogen bulb, but produces 3 times the light output at a whopping 3,500 Lumen per light bulb! This is possible due to it being a more efficient and modern technology. The other benefit is when purchasing your HID kit you get to choose the color, anywhere from a 3,000K color that looks golden yellow, all the way up to a bluish color labeled 10,000K. This diversity allows you to really customize your driving experience and the way your vehicle looks to others. Some people upgrade for style, others for safety. In the picture above you can see a 35w HID kit in 5,000K Pure White color from GTR Lighting.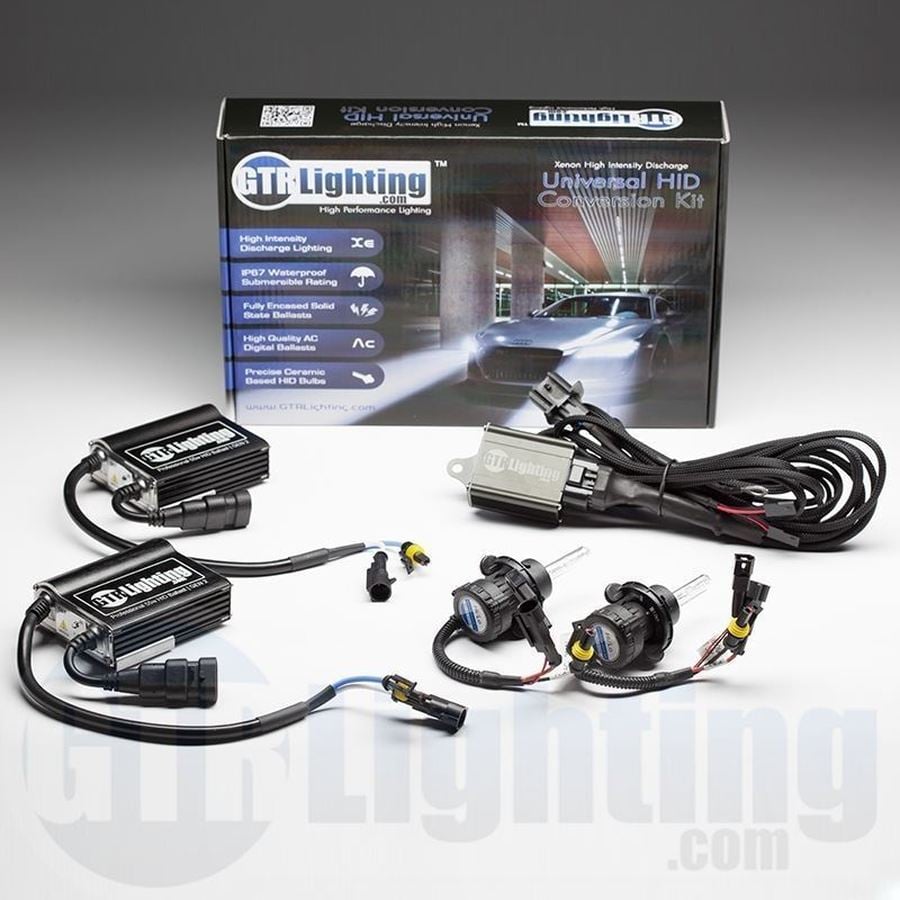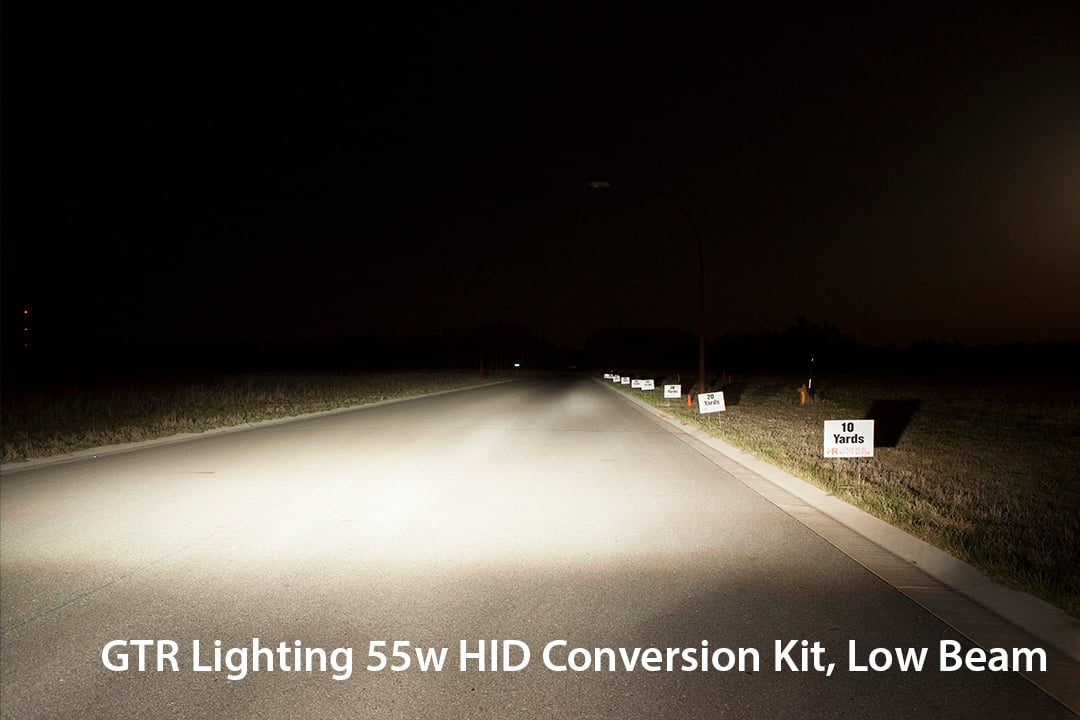 The other option (and the brightest available today!) for HID upgrades is to use a 55w ballast! 55w HID conversion kits use the same amount of energy as your original halogen headlight bulbs but produce 5 TIMES THE LIGHT OUTPUT! These heavy hitters produce 5,000 Lumen of light output per bulb which is easily the brightest headlight bulb option out there by a long shot. The 55w style HID kit is ideal in a projector housing but can be used in any automobile headlight housing. Some people even install these in fog lights, but it's common to see a melted foglight due to the intense heat produced by this product.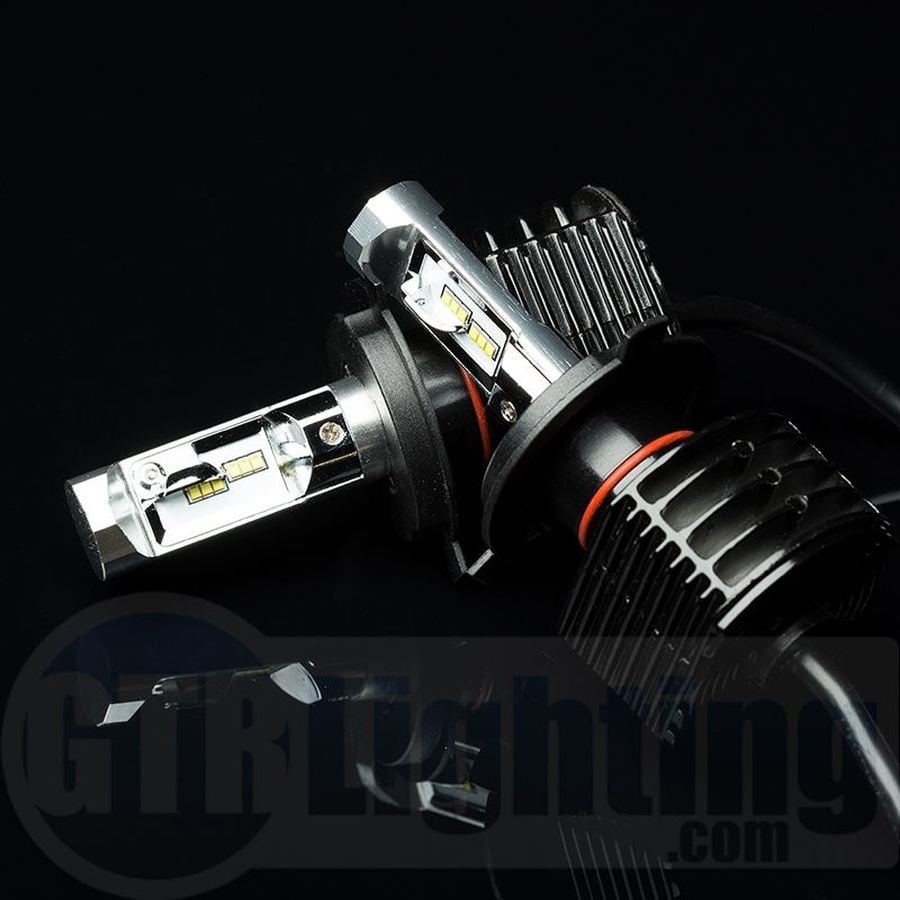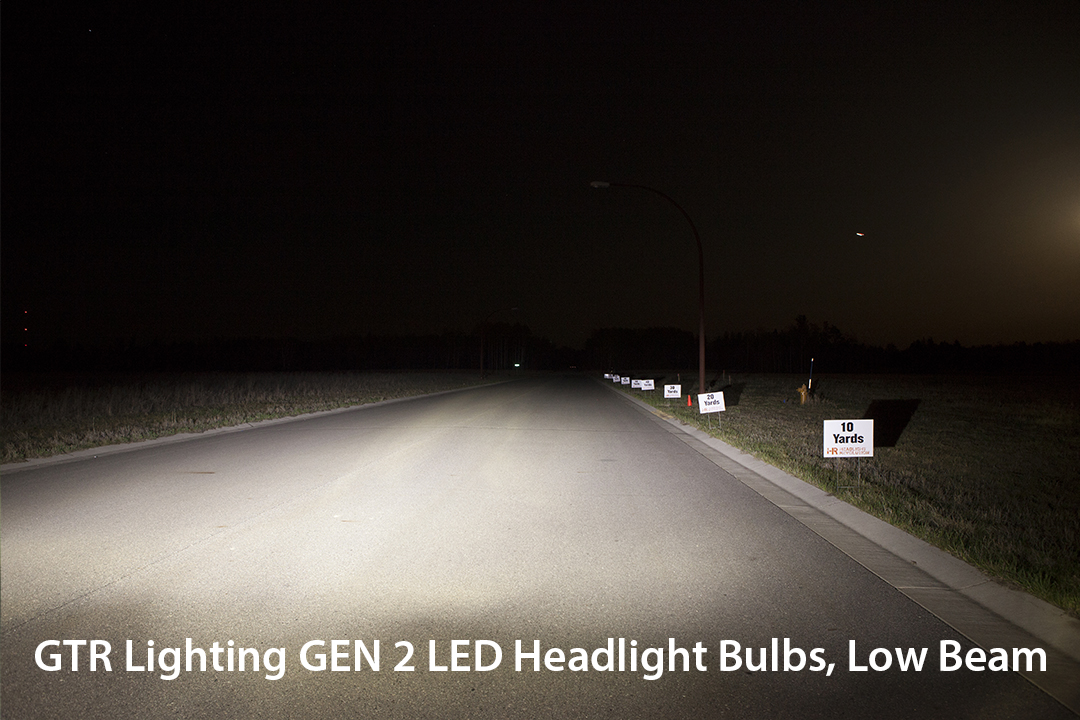 The newest, latest and greatest product to hit the market to upgrade your headlights with are high powered LED Headlight Bulbs. This entire product technology is relatively new, the first ones being introduced around 2014, today they are brighter than your original halogen headlight bulbs, and give you a more modern light output color. With LED headlight bulbs you get a simple install that's easier to put in than HID, with a similar light output level and quality of HID. The GTR Lighting GEN 2 LED Headlight Bulbs produce 3,600 – 4,500 Lumen per light bulb depending on the options you choose.

We are optimistic that in the coming months as this technology becomes more refined you'll see more and more high quality LED headlight bulbs on the market that will work better than HID conversion kits, and their original halogen predecessors. If you have any doubt about what product you should use to upgrade your headlights with, contact us and we'll help you figure it out!

Happy lighting!


Disclaimer:

Street legal in the USA for Fog Light use.  Not compliant with DOT / FMVSS108 and not street legal in the USA for Headlights.  Certain specialty vehicles strictly limited to off-street use and not having DOT registration or license plates may use these products exclusively off-streets. International street legality varies by country. Note: This usage regulation is not unique to any specific bulbs, ALL LED and HID bulbs from all other brands, regardless of marketing claims, are prohibited from street use in halogen headlights in the USA.