The 1984-1986 Chevy Corvette C4 came from the factory with that old-style sealed beam / halogen headlight housing. You can't take apart the headlight and just swap out a new bulb – it's a sealed unit which means it's required to replace the entire assembly. A lot of people install aftermarket "composite" style 5×7″ rectangular headlight housings that allow you to install aftermarket replaceable bulbs and then people will do an HID conversion kit for more light output.

However, this isn't a great option for the C4 Vette because the way the pop-up headlights work: The housing buckets actually flip all the way around, like a 180 degree spin! All of the wiring and harnesses coming off of the HID system to make it function get in the way of the pop-up mechanism and it becomes difficult to do the install. It's possible, but there's a LOT of wiring involved.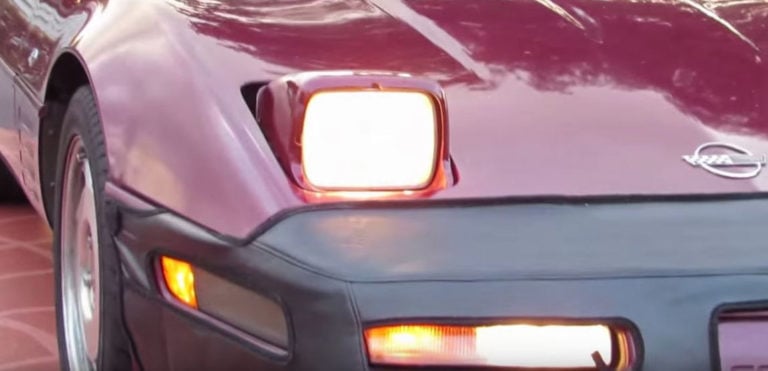 The C4 Corvette uses an H6054 glass/halogen sealed beam headlight housing in a flip-up assembly.

The best upgrade for the C4 Corvette is the JW Speaker 8900 LED headlight housing replacement. It will provide nearly 3 times more light output, plus a wider, brighter, and whiter beam pattern.
Because HID conversion kits are so bulky and difficult to install, your best bet is to go with a full LED housing replacement like the JW Speaker 8900. This headlight is a standard size 5×7″ sealed beam replacement housing and it's 100% plug-and-play on the Chevy Corvette. They come with a 5 year warranty, and just like your Vette they are made in America!

Popular in the heavy duty trucking market, the Model 8900 Evolution is a simple drop-in replacement for 5″ x 7″ headlights. They feature a tough die-cast aluminum housing and hardcoated polycarbonate lens for maximum durability. The high quality LEDs and engineered optics produce a superior beam pattern for maximum visibility. Install it in your vehicle to see just how impressive the best LED lighting can be.
Your choice of chrome or black inner bezel
Combined high and low beam functions
Newer design boasts a 30% increase in high beam intensity
Lower power usage


For more details about the JW Speaker 8900 LED headlight for your Corvette, watch this video that goes over this particular headlight and some other options too: