Subaru Impreza Headlights on Sale Today, the Good and the Bad
A legend of the rally special stage, helmed by the greats like Colin Macrae and Peter Solberg, and now the staple of your local midnight mall parking lot meets, the Subaru WRX and STI need some world-class lighting upgrades to match their persona.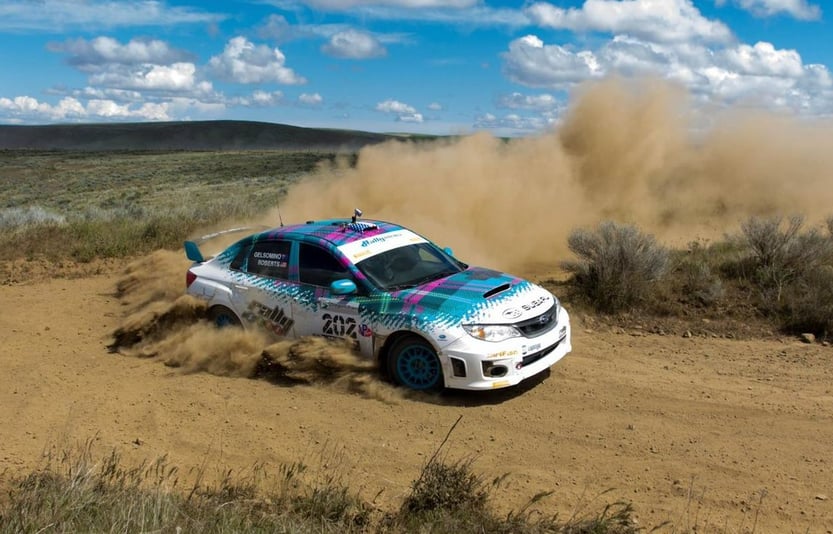 Unfortunately, there is a lot of less-than-ideal LED headlights on the market and proudly utilized by the WRX/STI community. We looked at some of the most widely purchased Subaru headlights to see how they compare to one another. There are some surprising contenders and some real duds.
Why LED Headlights for your Subaru?
Most stock headlights are dismal when it comes to lighting quality. This does not just pertain to the standard halogen headlights that many cars come equipped with, this also applies to OEM LED headlights. They often have marginally better light output than the halogen OEM headlights
However, if you are switching OEM bulbs out for aftermarket ones or even replacing the whole housing, you will likely find some improvement from the stock components. However, some popular aftermarket Subaru LED headlight housings are more (or technically less) than meets the eye.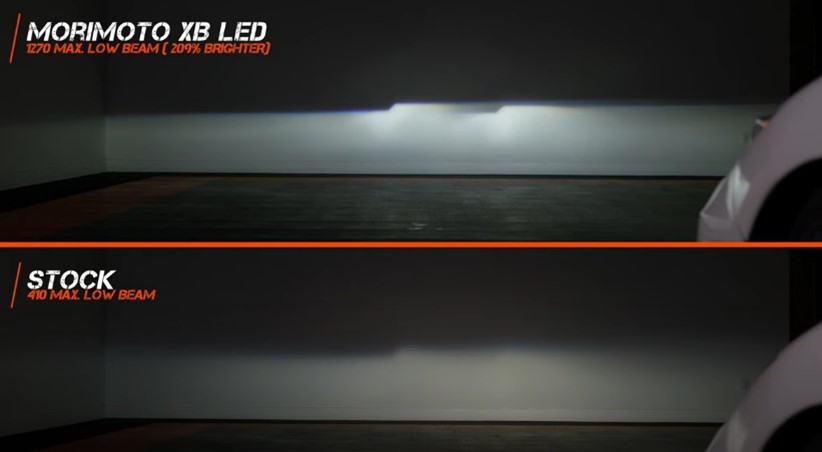 At their best, you will receive an improved beam pattern, better light output, reliability, and even some style upgrades.





Popular LED Headlight Options

Spyder Black/Smoke Switchback LED DRL Bar Projector Headlights
We will start with the cheapest option out of the lights we researched. The Spyder LED DRL Bar Projector Headlights are a fairly popular option among Subaru Impreza owners, and we can see why. These are affordable options for enthusiasts on a budget.
While cutting costs can be beneficial in some cases, headlights are not something you want to go with the cheapest option. It can be downright dangerous and end up costing you more in the long run in the form of replacement parts, new housings, or even lead to accidents due to the lack of light emitted from the headlights. Even if you want to increase the output by adding improved bulbs, doing so voids the warranty.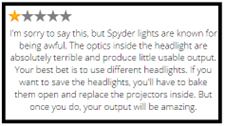 Specifically, about these Spyder housings, we found reports online that the projectors used in this housing emit less light on the road than the stock units. It is also likely that the brand Spyder is the retailer responsible for all those eBay headlights that are just rebadged and priced differently, if at all. Not to mention that there is no indication that these lights are legal for road use.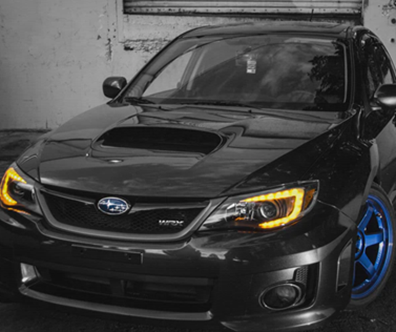 Even with these Spyder Apex models, you can tell the beam pattern is not that bright, nor particularly sharp. This disparity from the other models we will discuss here is only exemplified when you realize these headlights cost about $1,200. Also concerning, one of the main advantages Spyder lists on their site for the Apex headlights is "Extremely few early failures." Very comforting when spending $1,200.
But what about a warranty? Well, there is no specific warranty length anywhere on their website. The only thing stated is that it "varies from vendor to vendor" and there is no set standard for a warranty period. Not very comforting.
Morimoto XB LED Headlights Subaru Impreza 08-14
Morimoto is a tried-and-true company in the aftermarket automotive lighting industry. Their XB LED line-up is known for its performance and build quality. Most notably, this is the only aftermarket LED headlight that meets and exceeds SAE, DOT, and FVMSS108 regulations.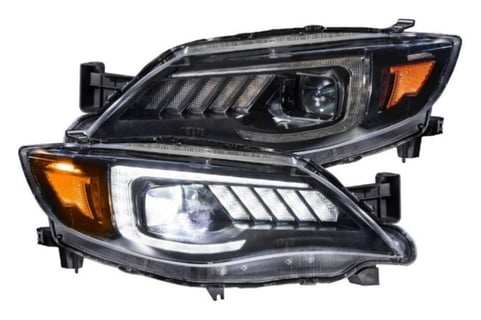 This Bi-LED projector headlight also offers a UV-Resistant Polycarbonate lens to help shield the light from the Sun's harmful rays. In the long run, your headlights will be far less likely to fade than those without the UV-Resistant lens.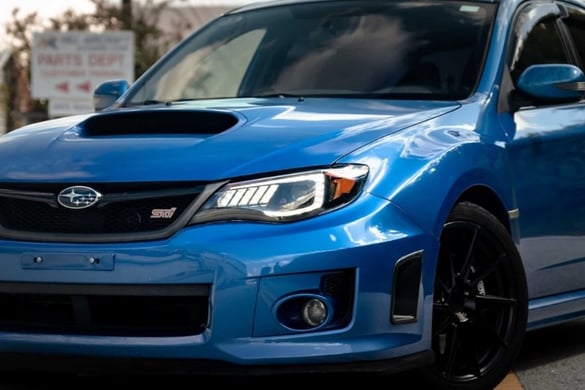 These are made entirely plug-and-play thanks to the stock mounting points and factory connectors. All of this makes for an incredibly straightforward installation process. These are a great option for those of you who are not as experienced with vehicle wiring and are looking to quickly get your car back on the road.
Reliability-wise, these are covered by a 5-year warranty. Morimoto knows its product is built for the long run. There are also no bulbs to replace so there is no need to order bulbs or replacement parts for this housing.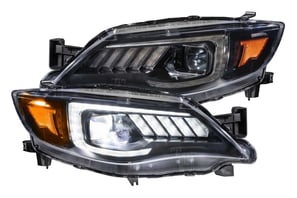 2018 - 2014 Subaru Impreza WRX/STI Morimoto XB LED Headlights
$1,495.00
Circuit Demon Stage 1 OEMassive 08-14 Headlights (No Gills)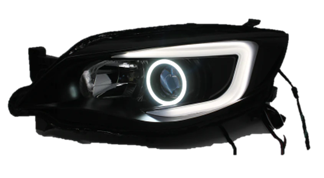 Circuit Demon has carved a name for itself in the Subaru and car community at large. Their custom housings go a long way to make your ride unique. A range of color options, designs, halos, and premium bulb options allow for your ride to be unique.
While you are spending roughly three times as much as our last entry, all the items we listed before are things you will not find in a cheap-marketplace brand. Not to mention you also get the benefit of working with a small business.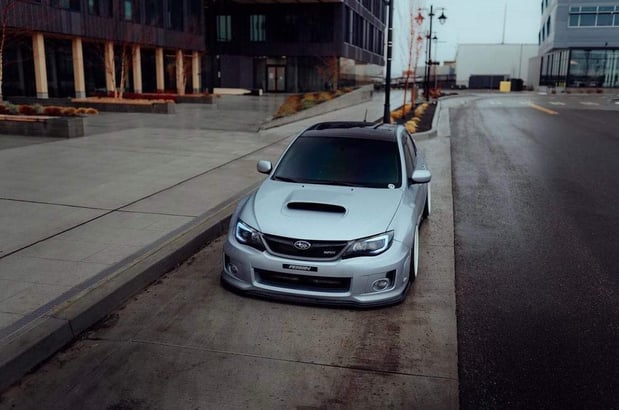 Reliability may not be as consistent with major brands, but you will have a strong customer support team to guide you through any issues. Circuit Demon also offers a 6-month warranty and a 1-year warranty under certain conditions. Plus, there is also the benefit of choosing the DIY route for these headlights. Circuit Demon will send you the materials for you to build the headlights yourself.

Since these housings are pretty DIY at times, they will not be plug-and-play. The halos and controller for the halo will need to be wired in. If you are not a master mechanic, that may be difficult and time-consuming.
Another thing to note about these headlights is that they are not going to be DOT and SAE-approved for road use. If your headlights are visually loud with color-changing RGB functions and demon eyes, you could be susceptible to being ticketed.
Spec-D Tuning 2008-2014 Subaru Impreza WRX Bar Projector Headlights
Not too dissimilar from the Spyder headlights we looked at before, these are a little more capable but still fall short on several major aspects. Most notably, these are not full LED lights. You are still using the reflector housing and bulb from your original headlights.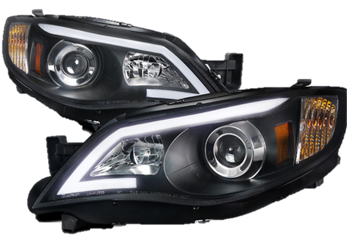 One thing we noticed is that the price varies drastically from retailer to retailer. All cite having a huge markdown on these headlights from their alleged original price of $800. Spec-D's authorized retailers all sell theirs for between $310 and $440. It makes you wonder if these 50 percent off deals are discounts to begin with.
If you watch Spec-D's install video, you can tell that these are not plug-and-play. You will have to spend time wiring up your DRL and halos with wiring that has not been waterproofed, which then means you need to wrap everything in electrical tape.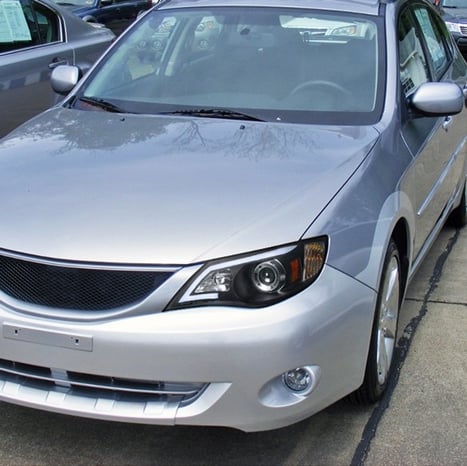 In that same video, you can get a taste of the dismal performance of the DRLs. While we cannot test them, just comparing these to a Morimoto or Circuit Demon product, it becomes clear that these lights are not worth getting. At the end of the day, you are only paying to get cheaply made housing with a DRL that can barely be seen during the day.
You would be better off sticking with your OEM housings, than spending your money on a Spec-D set.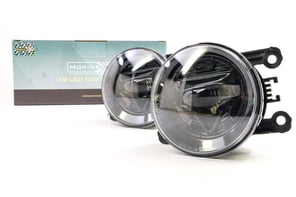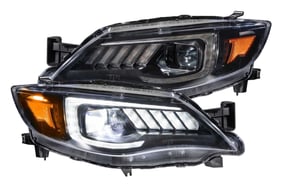 Are you in the market for better lighting on your Subaru? Click the button below and enter in your vehicle's year, make, and model to find the best lighting available.
Conclusion
There are several routes you can take for picking headlights for your 2008-2014 Subaru Impreza WRX or STI. You want to find the best balance of reliability, performance, quality, and style. If you have the means, we strongly recommend one the Morimoto housing.
Want something a little more custom and are willing to forego a street legal setup? Getting a custom set of headlights from Circuit Demon or taking on your own retrofit process would be a great option.
Either of these routes is a great option. And if you do not want to spend that money, we recommend upgrading your bulbs before you go with a cheap housing from untrustworthy retailers. Avoiding those sketchy headlights will be a huge benefit for you in the long run.

Have you tried any of the headlights we listed? Do you have experience with other aftermarket headlight manufacturers for Subaru or otherwise? Let us know about your experience in the comments!
We hope this product breakdown helps and if you are interested in seeing what lighting upgrades we have for your vehicle, you can see what we have available here!
Have any questions about the products we mentioned? Contact us today, and our customer service team would be happy to help.
In the meantime, stick around the Better Automotive Lighting Blog for all the latest on the automotive lighting world. Also, check out our Facebook page we just started. Be sure to drop us a comment and leave a 'Like' to let us know how we are doing.