CK Bulb Socket vs. Standard Bulb Socket
CK also known as SCK, SACK, or SRCK like this: 3157CK, 3157SACK, 3157SRCK
Only a handful of vehicles made in certain years, from a few manufacturers use a CK wired socket. Sometimes different car and truck manufacturers will change the type of wiring configuration they'll use to power certain turn signal and brake light bulbs. Normally you would have Positive and Negative terminals on either side of the bulb, but the "CK" type wiring is different.
A CK/SRCK is like the traditional sockets you see in most Japanese, and American vehicles except it's wired like this:
These 2 types of wiring configurations can be found on 3157 or 7443 types of bulbs. Some LED bulbs available will have special circuitry built into the LED bulbs that allow them to work for either type of socket.
The GTR Lighting Armor Series LED bulbs work with either standard wiring or CK wiring.
The GTR Lighting Carbide CANBUS LED bulbs are more specific. With the Carbide CANBUS bulbs you need to identify if you have the standard wiring or the CK type wiring before making your purchase.
The position of the contacts in the socket is the only difference. The bulbs and the sockets look identical – the only way to know the different is to test with a multimeter!
If you install a non-compatible bulb there's a possibility it will blow the protection circuit fuse and you will have to replace the fuse and install the correct bulb. Sometimes if you use the wrong bulb it will simply not work correctly, without blowing a fuse – that depends on the vehicle.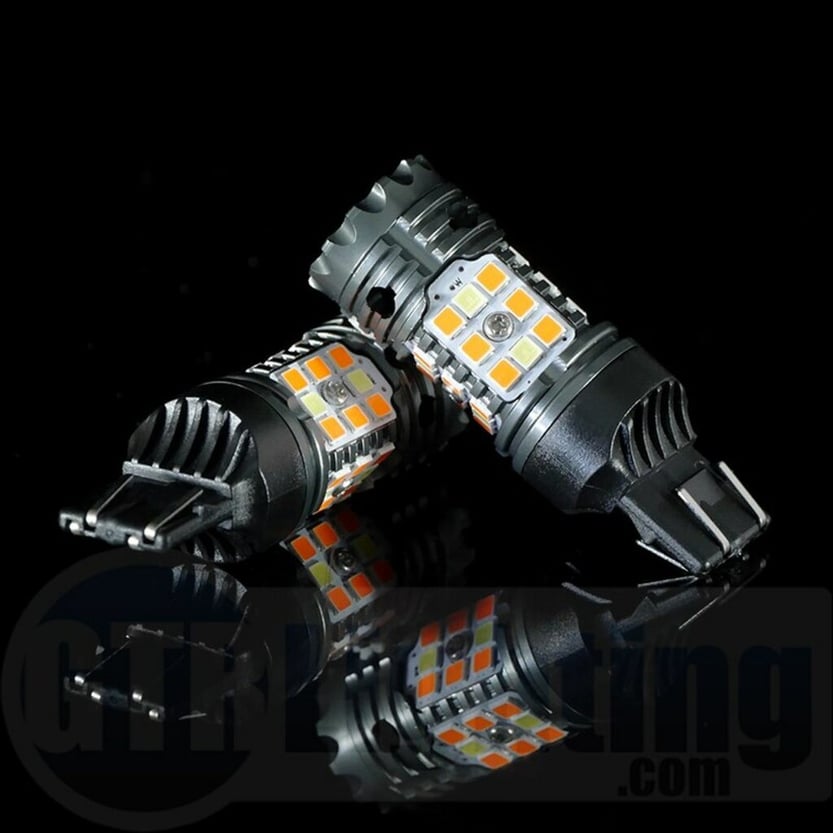 How to Identify Your Socket Type
1. Search on Google or YouTube for vehicle specific information.
It is possible that someone out there has already identified if your car or truck requires a CK or a normal style bulb. If you have a more popular vehicle chances are that it's already been figured out. We recommend you do some searching research on Google, YouTube, Vehicle-Specific Facebook groups or Vehicle-Specific website discussion forums with your year, make, model and key words like "LED", "CK", "C/K", "Turn Signal Bulb", or any other applicable key words you can think of.
2. Do your own testing!
No matter what you find through your research, it is imperative that you still do your own testing. Someone may be wrong about the information they provided, or it may be possible that the manufacturer of your vehicle changed the socket style from one month of production to the next! There doesn't seem to be any real indicator as to why one vehicle uses standard style, and another vehicle uses "CK" style sockets…
From our experiences, many TOYOTA vehicles front turn signal sockets are a CK type. Sometimes, you can even see there are two metal terminals inside the socket connected directly which means they are the shared CK-Style ground terminals. Sometimes you may be able to identify the ground terminal locations from the wires on the back of the socket. A test is still required in order to confirm the type.
Also, your original bulb will tell you if it is a CK or standard, most CK bulbs will say SRCK on the bulb base.
To do the testing we recommend you use a digital multimeter but a test-light may also work. If you are not a qualified and trained technician we recommend that you hire one to decide which type of LED bulbs to purchase.
NOTE: Remove all tail light bulbs before testing, otherwise the filament in the brake circuit will read as a "false ground".
You must test your sockets BEFORE you purchase your new GTR Lighting LED bulbs.
Here is a list of possibly confirmed vehicles that use CK style sockets:
2008-2015 Scion XB brake lights: 7443SRCK
2013-2015 Ford C-MAX outer Brake/tail lights: 7443CK
2005-2010 Honda Civic COUPE (not sedan) Front Turn Signals: 3157CK
2010 Toyota Corolla front turn signals: 3157CK
2005-2015 Toyota Tacoma front turn signals: 4157CK
2006-2019 Toyota Tundra front turn signals: 4157CK
2009-2014 Nissan Maxima front turn signals: 3157CK
2004 Acura MDX front turn signals: 3157CK
2005 Nissan Pathfinder front turn signals: 3157CK
2005 Nissan Xterra front turn signals: 3157CK
2007 Toyota Camry front turn signals: 3157CK
2008 Ford Escape front turn signals: 3157CK
2011 Toyota Avalon front turn signals: 3157CK
2013-2015 Honda Accord Coupe front turn signals: 3157CK
2018 Subaru Crosstrek front turn signals: 7443CK
2018 Land Rover Discovery front turn signals: 7443CK
2012-2014 Acura TL front turn signals: 3157CK
2016-2020 Chevrolet Colorado front turn signals: 7443CK
2013-2018 Chevrolet Equinox front turn signals: 7443CK
2015-2017 Chevrolet Impala front turn signals: 7443CK
2019-2020 Chevrolet Silverado Custom front turn signals: 7443CK
2018-2019 Ford Expedition front turn signals: 7443CK
2019 GMC Canyon front turn signals: 7443CK
2010-2013 Honda Pilot front turn signals: 3157CK
2006-2007 Nissan Frontier front turn signals: 3156CK
2019-2020 Ram 1500 front turn signals: 3157CK
2018-2019 Subaru Impreza front turn signals: 7440CK
2005-2020 Toyota Sienna front turn signals: 7440CK
2008-2012 Toyota Sequoia front turn signals: 3157CK