We recently had an opportunity to install new 7×6 headlight housings, and high power LED headlight bulbs into a 1995 Toyota Tacoma. This truck originally used H6054 sealed beam rectangular headlight housings, so the first step to installing the new LED headlight technology was to replace the original housings with new ones that can accept a replacement light bulb.

To do this, we put Vision X #VX-57 rectangular sealed beam housings in place. These new housings are DOT approved and fitted with the regular H4 halogen bulbs, which would be 30% brighter than the original sealed beam headlights.
After picking a set of housings, instead of using an HID kit or standard H4 halogen headlight bulbs, we used a set of the new LED Headlight Conversion kits from GTR Lighting. These new high power LED bulbs are suitable to replace any version of original halogen light bulbs for cars and trucks, and our '95 Tacoma with the new housings required the H4 version of this product: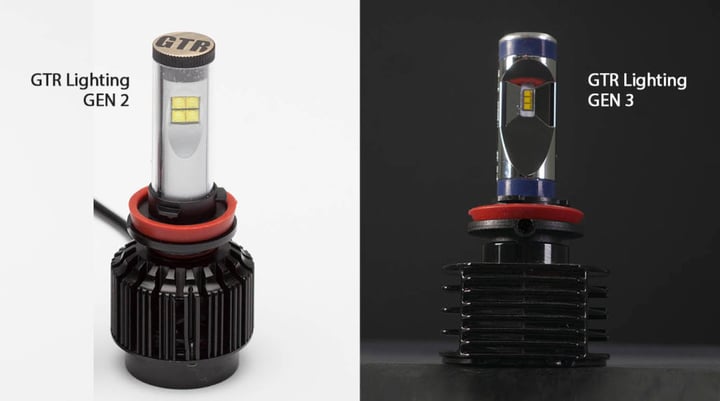 To put it in perspective, the original sealed beam headlights put out approximately 900 Lumens of light, and a 35w HID conversion kit would produce nearly 3,500 Lumens of light output. The new LED headlight conversion kit produces 2,200 Lumens of light on a low beam and 2,600 Lumens of light on a high beam.

So you can see that if you're going for overall brightness, then an HID conversion kit is still the brightest option, but the dual-beam LED conversion kit bulbs are easier to install than a dual beam HID kit and much brighter than the stock bulbs. So there are some benefits to going with the LED bulbs, but it depends on what you want to accomplish.
The first step was to replace the original sealed beam headlights with the new housings from Vision X: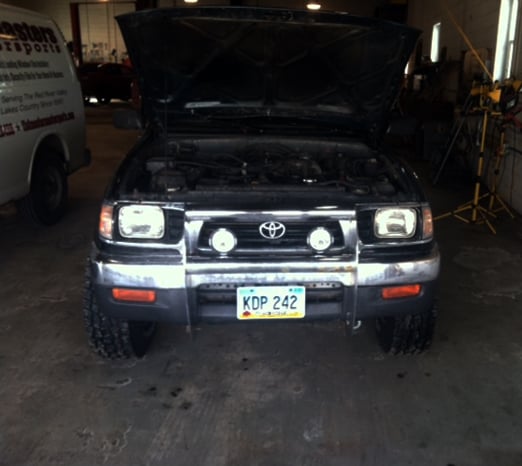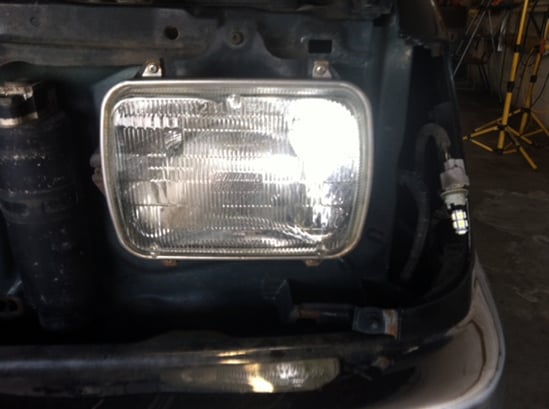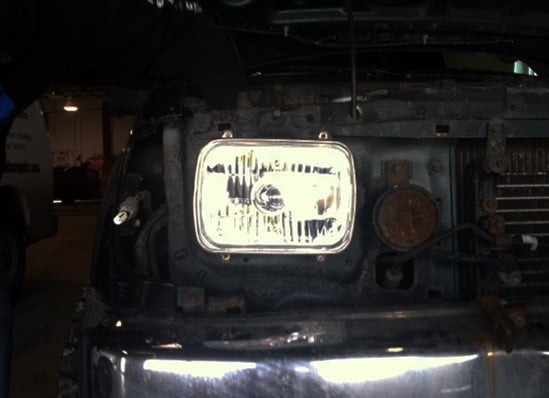 After getting the old sealed beam original headlights out and the new Vision X brand of 5×7 replacement housings installed, it was time to put in the new bulbs. The LED headlight conversion kit comes with 2 bulbs, a wire harness, and a very small external driver. The new bulbs fit right in place with the housings, even though they stuck out slightly on the backside. There was plenty of room for them, and the fit was secure.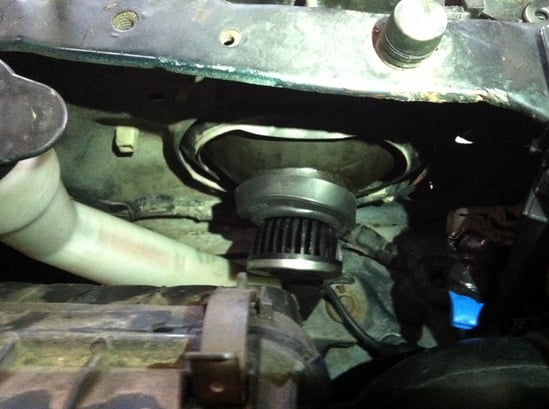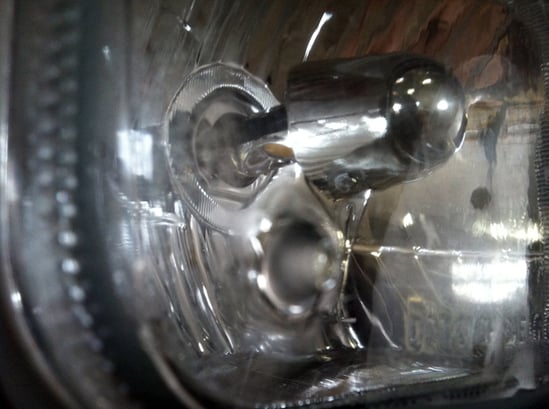 Here is a comparison of the two headlights. We have the new headlights shown versus the original headlights. The old headlights were fairly dim and had a yellow color to them. The new headlights are actually a 5,500K color, but they look bluer than they really are in pictures. But they are brighter and whiter than stock headlights: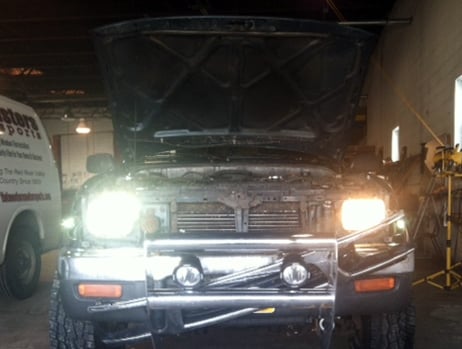 You can now see the finished product with both headlights outfitted with the new housings and LED headlights.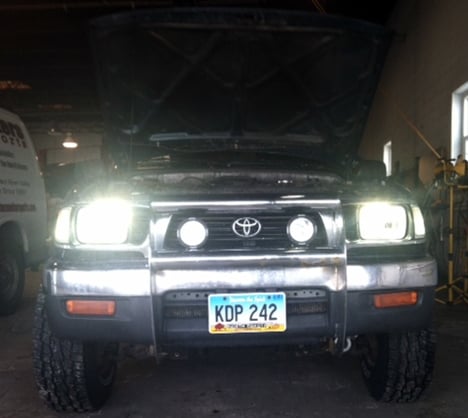 The final test was to go driving with the new headlights installed. The new headlight setup was DEFINITELY brighter than stock. There was more light on the road, and the color was a perfect crisp white instead of a dull yellow color. We could see the street signs better and could see further down the road. Here is a comparison of low beam versus high beam on the highway with the new headlights: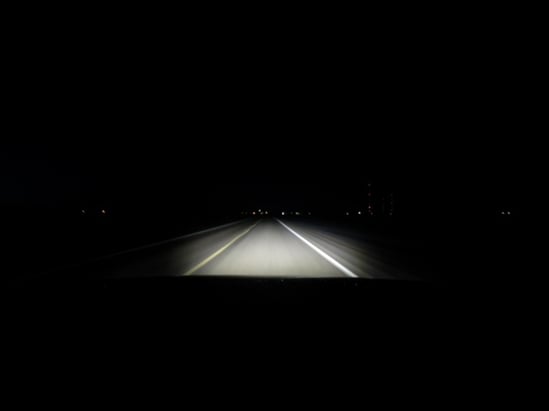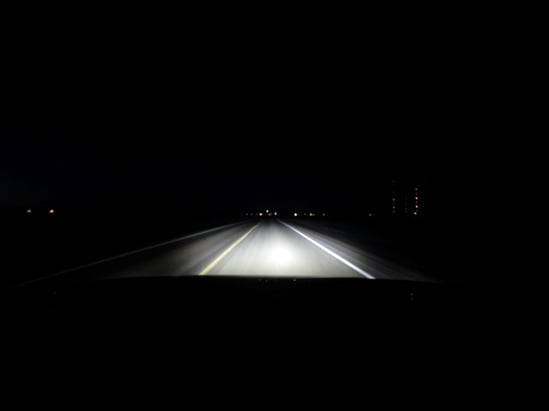 This project was easy, and the results were as good as we thought they would be. The output is awesome on them even though it's not quite as bright as a full HID conversion kit – the tradeoff is that this kit is easier to install and cheaper than a 35w dual beam HID kit from the same manufacturer.

The lights are easily twice as bright as stock or more, and the only real drawback is that the high beam didn't make a huge "wow factor" impression on this application. It's there, it's brighter, but it doesn't quite blow your socks off.
If you want to do this same setup, you'll need the Vision X part number VX-57 and the GTR Lighting part number 7010273. These two together will work with any sealed beam style 5×7″ or 7×6″ rectangular headlight system. For other options on these headlights, we recommend you check out this website for sealed beam headlight replacements and LED headlights.