In March 2015, GTR Lighting released the 2nd Generation LED bulbs which were the second LED bulbs from GTR Lighting. (The first being released a year earlier.) These 2nd Generation Bulbs were 1,000 lumen brighter and featured a unique color shield system to change the color of the light output. This new generation of LED headlight bulbs also created a beam pattern which was more usable and focused.

These 2nd generation bulbs were widely received and we found them to work specifically well in the 14-19 Toyota Tundra. So when we began to hear rumors from GTR Lighting that they were releasing an even better generation we got excited! In this article, we'll point out the differences between the 2nd Generation and the newly released GTR Lighting Ultra Series (3rd Generation) LED Headlight Bulbs.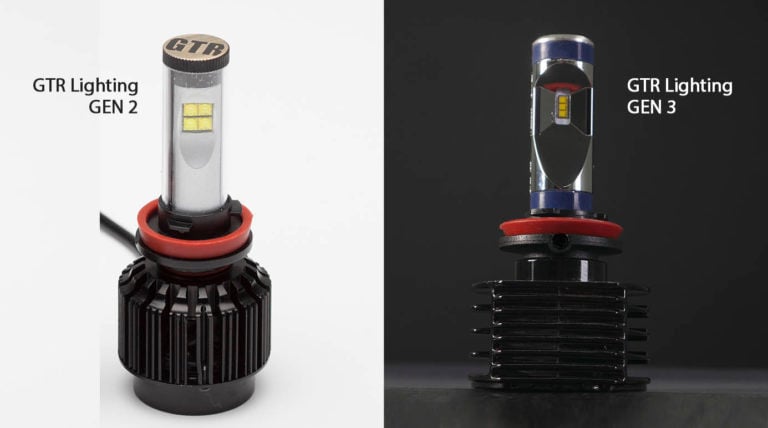 Before we dive into the specification differences, the first thing to point out is the body of the 3rd generation bulbs. Then 3rd generation Ultra Series bulb uses a fan-less design to cool the bulb. The original 1st generation and Generation 2 bulbs used a fan in the base of the bulb to pull away heat and cool the bulb. The fan in the first generation model worked well enough to cool the bulb, but we're excited for a new cooling system that does not involve a fan that may potentially fail. The new Ultra Series LED Bulb uses a hollow base that allows for convection cooling and air movement through the base.
The other big difference is that the 2nd generation used an "All-In-One" style driver technology. However convenient this was, it increased the mounting depth required to run the bulbs. The new GEN 3 uses an external driver and sports a half-inch shorter heat sink which means it will fit way more applications than it's predecessor!
The ability to change the color of the light output on the 2nd generation bulbs really was a unique feature that many owners loved. It's also a feature you will not find in this newest 3rd generation of LED bulbs; the 3rd generation Ultra Series bulbs have an unchangeable 6,000K color. Although this color is beautiful, bright, and clean white, some owners may be disappointed in the single-color choice. When asked about the change GTR Lighting admitted that using a glass shield around the LEDs on the old bulbs increased operating temperature and may have led some models to premature failure.

But a difference between 2nd and 3rd generation bulbs that will not disappoint is light output. The 2nd generation bulbs had an advertised 3,600 Lumen output while the 3rd generation bulbs have a 3,700 Lumen output. "But that's only a 100-lumen difference," you say. Correct, but let's look at the lux numbers: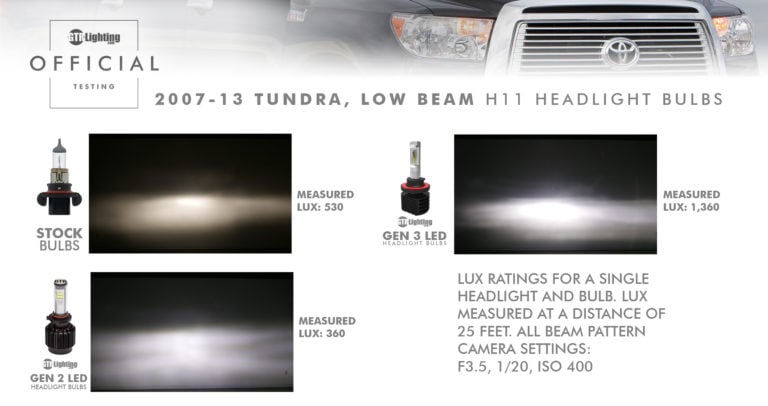 This picture was taken at a distance of 25 feet with the stock halogen bulbs, 2nd generation LED, and 3rd generation Ultra-Series LED bulbs all placed inside the same headlight housing. As you can see, the lux amount produced from the Ultra Series bulb is 1,000 lux more than from the 2nd generation bulb. Why is this important and what even is Lux? Well, let me explain.
Lumen is the amount of total light produced from a bulb. It's true that the more lumen is produced the brighter a light is, but Lumen is only one factor in determining usable brightness. Lux is how usable light is determined. As you can see in these test shots, the 2nd generation bulb which has 3,600 lumens only produces 360 Lux, and the GEN 3 bulb that has 3,700 lumens produces 1,360 lux. How can it create so much more lux with only 100 extra lumens? What's the difference?

Well, look closely at the beam pattern pictures. The 3rd generation bulb creates a beam pattern with a very distinct and very intense hotspot. As you look at the 2nd generation bulb beam pattern you'll see that this hotspot is small and dimmer. Lux is a measure of these hotspots. Lux is measured within the beam pattern at a distance of 25 feet and measures the amount of light that is actually being thrown from the headlight down the road.

Let me put it this way, a bulb with high lumen amounts could be unfocused and produce low lux amounts as a result. On the other hand, a bulb with the same amount of lumen that is able to be focused well inside a headlight can produce very high Lux amounts. The major difference we see here in usable light output is not really a matter of Lumen, but a matter of precise focus and the resulting lux. A huge difference we've seen between the 2nd generation and the 3rd generation bulbs is the ability of the 3rd generation bulbs to create a better-focused beam pattern versus the 2nd generation bulbs.

Here's why:

LED chip technology has greatly improved since the early days of LED bulbs. Take a look at the difference between the GTR Lighting 2nd and 3rd generation LED Bulb chips. The 2nd generation bulbs featured CREE XT-E LED Chips. The new Ultra Series 3rd Generation bulbs feature Lumileds Luxeon Z ES Chips. These new Lumileds chips are much smaller and can actually be shaped into a configuration that more closely resembles the footprint of a standard halogen bulb. The design and layout of these new Ultra Series bulbs are what create a beam pattern more similar to a stock halogen bulb.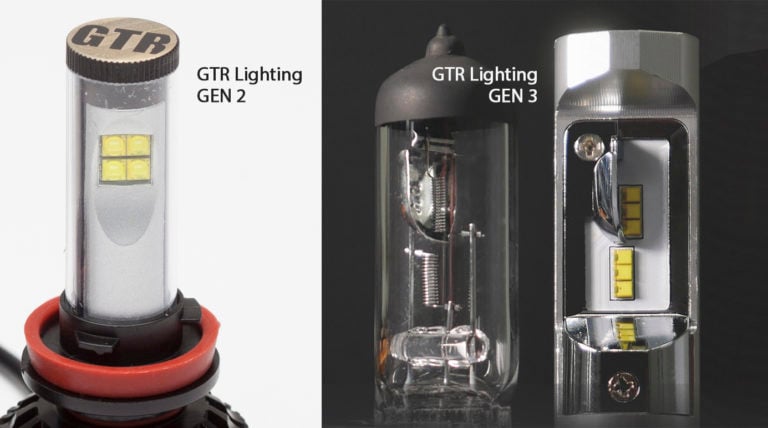 GTR Lighting 2nd Generation LED Bulb Specs:
3,600 Lumens Low Beam / 4,500 Lumens High Beam Light Output Per Bulb
40 Watts Low Beam / 80 Watts High Beam Energy Usage Per Bulb
LED Light Color Without Tint Shields: 5,000K
Optional Colors with Optional Tint Shields: 3,000K 4,300K 5,000K 6,000K 10,000K
Waterproof Ball-Bearing Fan for cooling
Eight USA Made CREE XML LED Chips per bulb
Smart and Efficient Cooling System uses Built-In Cooling Fan.
Total Consumption 160W. 80/40W per bulb
GTR Lighting 3rd Generation "Ultra Series" LED Bulb Specs:
Raw Lumen Per Bulb: 3,700
Effective Lumen Per Bulb: 1,800
LED Color: 6,000K
Max Lux at 3 Meters: 5,000
Max Lux at 25 Feet: Depends on Vehicle
Lifespan: LED Chip Rated at 50,000 Hours
LEDs Used:
-Single Beam Bulb, x6 Lumileds Luxeon Z ES Chips.
-Dual Beam Bulb, x12 Lumileds Luxeon Z ES Chips.